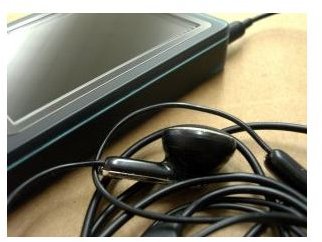 Features and Options
Your Zune player has its own set of settings separate from the software. Access all settings by scrolling to the Settings section from the main menu. Exact settings may vary based upon your model. Some of the common settings include Wireless, Display, Music, Pictures, Sounds, Zune Pad, Radio, Clock, Language and Screen Lock.
The Wreless Settings allow you to choose whether to use your Zune wirelessly and connect either to your computer or other players. You can select available networks and sync with your computer or another player. If you do not want to connect wirelessly, you can turn the wireless feature off. To save battery life, you may want to change the Display Settings. These settings include how long the backlight stays on and how bright the display is. You can also change your background from this menu.
For Music and Picture Settings, you can choose how music is played, such as shuffle and repeat or how long a picture is displayed during a slideshow. For your sounds and Zune pad settings, you can select whether button clicks and game sounds are on and how your Zune pad reacts to touch. You can actually turn the pad into a button if you think the pad is too sensitive.
Radio, Clock and Language Settings are pretty self explanatory. For Radio and Language, select your region and native language. The Clock Settings allow you to set the time and date and how the clock is displayed. The final setting is Screen Lock, which allows you to lock the screen to prevent any changes to the screen or what your Zune is currently doing, such as playing music, while the screen is locked. This can be good if you think you might accidentally hit a button while watching videos, viewing photos or listening to music.
Software Settings
The software provides you with settings options for your computer and Zune. In order to change how the software interacts, you must have your player connected. When you initially install the software, you are asked to set up your Quick Play screen. From here you can add artists from your collection to help create playlists of similar genres and artists. If you have a Zune Marketplace account, this feature will also help you find similar artists in the Marketplace.
For advanced settings, press Settings in the Zune software, which is located at the top of the screen. Select either Software, Device or Account to access each list of settings.
Software settings deal with how your software interacts with your media collection. In the collection settings, you can select which folders contain the media files you want to sync with your Zune. You do not have to automatically sync, but you must place any files you want to store on your Zune in these folders. If you use your software as a media player, select the file types settings to choose which file types the software plays by default.
Choose whether to send data about your usage to Microsoft through the Privacy settings. Select Podcasts or Pictures to change how your software plays and handles podcasts and pictures. If you have an Xbox 360, you can choose whether to share your Zune collection with your Xbox 360 or not.
If you want to change your software background, you can do so through the Display settings. The Burn, Rip and Metadata settings deal with how you add media files to your collection. This includes ripping CDs and DVDs, burning CDs and DVDs from your collection and obtaining media information such as artist name and song title. Set how the software acts when it first starts by selecting settings in the General Settings section.
Device Settings
By choosing Device from the Settings menu, you can set up how your player interacts with the Zune software. The Sync Options and Sync Groups settings allow you to set up automatic or manual syncing between your computer and Zune. If you do not want to automatically sync, choose to use your player as a guest. This will prevent accidental deletion of files if your player and software do not match. If you do want to sync automatically, choose Change Sync Relationship and choose a name for your Zune. You can also do this from the Name Your Zune settings options.
Set the Linking Options to link your Zune to a certain account. Use the wireless sync to sync your Zune player wirelessly to your computer. Obtain the latest Zune firmware updates by choosing player update. If media files must be converted in order to be compatible with your Zune player, change the conversion options. The privacy and reserved space options are used to determine how much space you want to use for sharing files with other Zune players and which file types other users can view.
Account Settings
The final group of settings is the Account Settings. All account settings deal with how you log in to your account from the Zune software and how you manage Zune Marketplace purchases. Anything you purchase or subscribe to in the Zune Marketplace can be viewed from this settings menu.
Note that you can add up to three computers and three devices to your Zune account. You can view all account information for the computers and devices from the account settings. To automatically view account settings, press the Sign In link at the top of the Zune software screen.
Testing Your Settings
Use a small group of files to check your settings, especially sync settings. This includes testing how the Zune player interacts with the software and how the Zune player itself interacts with your media content.
You can change your Zune settings at anytime by accessing the Settings menu. If you need further assistance with understanding how to set up a Zune, press Help at the top of the screen. You can also find more help with customizing your Zune settings by visiting the Zune website.
References and Resources
Image: sxc.hu/Isaac Bowen