Handbrake DVD to iPod: DVD to iPod, iPhone, or iPod Touch

In this final part of our series on Handbrake for Mac we will take a look at the steps involved in ripping a DVD and syncing it with your iPod, iPhone or iPod Touch. Handbrake for Mac on its own cannot rip copy-protected DVDs, but it will rip non copy-protected DVD's just fine. In order to rip copy-protected DVD's you must make sure you are legally entitled to do so in your country and then install VLC for Mac. Handbrake will then use VLC for Mac to do the decoding of the copy-protected DVD. Again, please make sure you are following all of the applicable laws when ripping copy-protected DVD's. In North America a general rule of thumb is that you own an original copy of the DVD to be ripped, you do not sell the copies you rip, and you cannot charge groups of people to watch the DVD.
You can download VLC for Mac from the official homepage. Once downloaded simply mount the .dmg file and copy VLC to your applications folder. Next, insert the DVD to be ripped into your optical drive and select it as your source. Handbrake for Mac will then scan the DVD and auto-select the longest title on the DVD which is generally your main feature. Once the appropriate title has been selected you will want to browse the built-in presets in the presets pane and select the one that corresponds with your device. That's it! Add your rip to the Handbrake for Mac queue for later processing or hit start to do the encoding right away.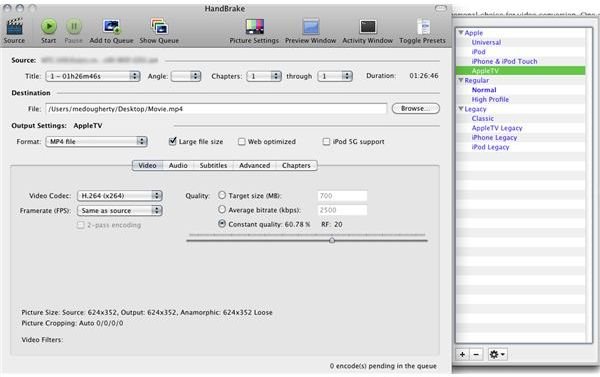 A full length DVD rip will generally take around 60 minutes to process. This time will depend on the speed of your processor, optical drive and whether you are using your Mac for other tasks during the rip/encode so sit back and relax as you're looking at a bit of a wait while Handbrake for Mac works it's magic. Once the DVD rip has completed you will want to add the file to iTunes so you can sync it with your iPod, iPhone or iPod Touch. To do this open iTunes, navigate to the file menu → add to library and select your new video file. The file will then be added to your library and available for sync with your mobile device.
One last thing to consider when adding video files to your iPod, iPhone or iPod Touch is the space they take up. If you use the Handbrake for Mac Apple mobile device presets you are looking at anywhere between 400MB and 900MB for a full length movie. While these are not huge file-sizes your mobile device can fill up very fast. I generally sync 1-2 movies at a time to my iPod and simply replace them with new movies once I've watched them. Whatever your Apple mobile device capacity having a movie to watch on your iPod, iPhone or iPod Touch during those long road trips makes the iPod + Handbrake for Mac a great team!