Take Your Desktop on the Next Road Trip with the LogMeIn Ignition App and the iPod Touch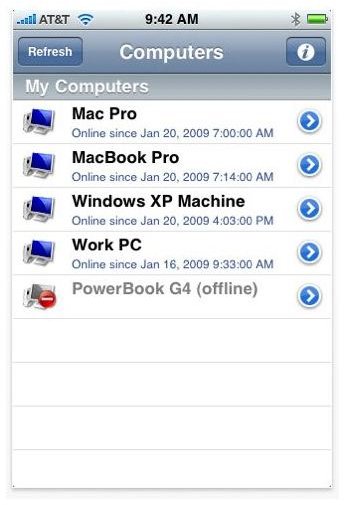 Log Me In With LogMeIn Ignition
When somebody mentions "remote control", I don't think about a TV but about how I have never been able to find an easy way to control my desktop Mac when not at home. I've gone through all those fancy programs, but nothing seems to work as easily as just being in front of the Mac. But wonders never cease when it comes to the app store and what you can put on the iPod Touch. LogmeIn Ignition says it can do the job, so let's install it and try out.
Don't Con Me - Configure Me
Okay, I'm glad that the only part of the configuration I have to do on my Mac consists of downloading a small applet that's active (unless turned off) when the Mac is on. And that's with both antivirus and Firewall software working too. So after installing this and rebooting, I go to the "dreaded" configuration I'm expecting on the LogMeIn Ignition.
Which doesn't occur. I have to log in to the LogMeIn web site - having made an account with them earlier) - and then all I do is enter the user name and password from my Mac. Moments later - this is so nifty - a screen appears of my Mac desktop. And to make it even neater, I hit the configuration screen and tell it to display both of the monitors. And as should be obvious, the monitors don't have to be on for me to see them as if there were. But a little transparent window does pop up on the monitor so anyone looking at it won't think that Ghosts have switched to Macs, either.
Look Ma - My Desktop!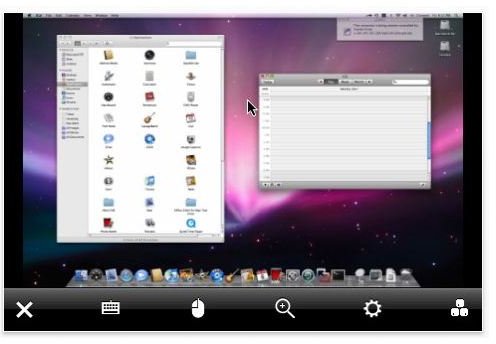 Now navigating through all this does take a bit to get used to - using the techniques Apple has built in for enlarging and moving through windows with touch-screen precision is awfully sensible (two fingers scrolling, pinching to make a window larger, etc.). As is the icons and commands that bring up a keyboard or special key modifiers to use (shaking the Touch to switch monitors is really cool). The redraw speed is fairly quick too - even with two monitors being displayed - and I guess that has something to do with the wireless network and speed of the Internet connection.
Overall I am more than pleased with LogMeIn. It lets me see the desktop and access files and emails that otherwise wouldn't be possible. I'm looking forward to learning more about how it works through using it - not reading about it. I suggest you do the same.