Griffin Travel Stand Stands Up the iPod Touch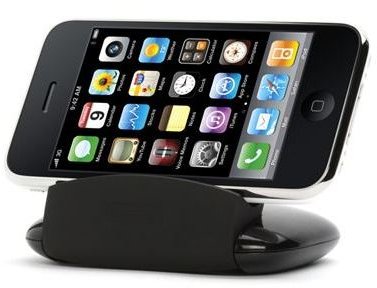 Flip Open the Case For Movie Time
I can't tell you the fun of holding an iPod Touch while watching a movie. That's because the movie might be fun, the iPod Touch might be the best little movie screen on the Planet, but the blood rushing out of my hands is leaving me numb! Are the iPod accessory Gods listening? Can I please have something that will hold Apple's beauty for me so I can stop this tingling sensation. Oh and Gods, while you're at it, make the thing extremely portable and give it a hook or something that will let me keep a pair of quality earbuds attached to it so I don't have to go searching for them or end up using the lousy earbuds that Apple tosses in for free with their stuff
Response of the Gods - Griffin's Table Stand
Okay, there wasn't any delivery accompanied by fire and thunder - just the UPS guy with a tiny package. Which opened up to reveal the Table Stand that got its cardboard guts ripped open so I could get to the insides. The Table Stand reminds me of a bar of Irish Spring Soap - the substandard size you get in a Motel. It's easy to tell the top from the bottom since the top's a dull black and the bottom is shiny(also similar to what you get in a Motel). It took about 15 seconds for me to catch on that you pull out the top by inserting your fingernail in the small depression - easier to figure out by doing than by looking at the picture on the back of the now shredded box. Turning the Table Stand around so that the part I just lifted is at the top, it took another 1/2 second to catch on that the iPod Touch just goes horizontally into the depression and stays there courtesy of friction.
Using the Table Stand
So in goes my iPod Touch. What's cool is that the weight of the Touch helps to stabilize the base so that it becomes more steady than when it was sitting there by its lonesome. The only negative is that the depression doesn't care for having the Touch in a hard case, or even some of the thicker soft ones - although you can nudge it in easy enough if you're careful. Guess if you're not into having a bare iPod Touch, maybe it's time you gave it a try.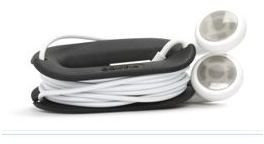 The final bit is that there's this little plastic widget that fell out of the box. Straining my limited brainpower revealed to me that it's a nub designed for winding an earbud's cord around. I also figured out that the nub goes into the depression of the case when you close it for a totally compact look (helped again by the picture on the back of the box - maybe I shouldn't have beaten it up so?).
I really like that my bad habit of watching videos while eating breakfast is now being aided by the Table Stand, rather than courtesy of my one-hand breakfast balancing act. Thank you accessory Gods and thank you Table Stand.