How to Stream Music From iPhone to Airport Express with Airphones

Stream away your tunes
Do you love listening to music? Do you own an iPod or an iPhone? Are you on a Mac? If you just answered the above questions with a "yes" then let me help you in getting an awesome app that will just rock your world! To start with, let me explain what an Airport Express unit is for the uninitiated. The Airport Express unit is a hardware networking device from Apple that serves a wifi access point as well as allows you to stream music remotely from iTunes running on your Mac to any set of speakers that are plugged into the Airport Express unit. This allows one to listen to music anywhere in the house as long as the Airport Express and the Mac are connected to the same wireless network.
Airphones - Streaming Mac audio
If you like the idea of streaming your audio from your Mac across the house, then you might also have a look into Rogue Amoeba's Airfoil which will allow you to extend the Airtunes features to any application running on your Mac and not just iTunes. The guys at Airphonesapp have taken this idea and brought the same functionality to the iPod Touch & the iPhone. Airphones is an application for the iPhone/iPod Touch that will stream audio from your Mac to your portable device (iPod Touch/iPhone). Granted you can achieve the same feat using an expensive pair of bluetooth headphones, but why not make use of your fabulous Apple device to achieve the same? Besides if you've got a solid pair of earphones on your device then its just more fun!
Airphones Streaming
To get started, download the desktop client from the Airphones site and follow the simple installation instructions. The Airphones control screen allows you to switch on the server which shares the audio stream and you can also see the list of devices that have been configured with airphones. Once you launch the app on your iPod Touch or your iPhone the only thing that you have to do is to use the slider to adjust the volume and rock on to your music from your Mac. As is the case with other apps that sync with your Mac, your machines need to be connected to the same network.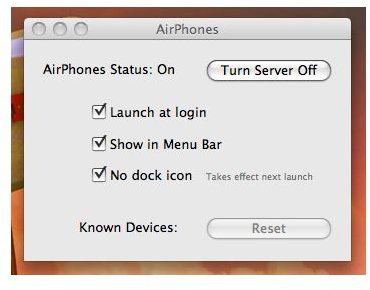 Updates & Airphones 2!
The promise that Airphones offers is really exciting. I would love to cook in my kitchen while having my iPod touch plugged into my Mac audio stream playing music from my massive iTunes library. In fact I could also connect my stereo speakers to my iPod Touch or iPhone and listen to music in all its glory!There is no way of selecting the Airphones unit you want to stream to like either my iPhone or my iPod Touch or streaming it simulatenously to both devices.
Then again, this is the first version of Airphones and I'm sure that the developers are working away to add more to it. Overall the Airphones app is a great idea and worth watching out for the next versions.
The most recent version of Airphones 2.0 now supports complete Stereo playback of music and also has been drastically improved to provide better audio quality. There is also a lite version available on the App store for free which you can try out before buying the paid version.