Microsoft Zune: Does Sales Drop Mean No Future for This Device?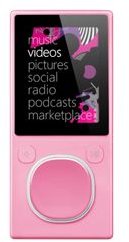 Zune sales drop
The first Microsoft Zune music player – a 30Gb model – was released in the USA in 2006 and immediately attracted considerable controversy. Some of the reaction concerned the color range available – black, white and an unattractive brown – but most of it was given over to the capabilities of the device and the business model behind it.
The Zune is designed to compete with the Apple iPod, and functions as a picture viewer and video player for certain file formats. It also includes an FM radio player. In 2007, the original Zune 30 was phased out and a 'V2' series introduced, consisting of a 80Gb hard disk player with a slightly larger screen and two smaller players with 4Gb and 8Gb flash memory. All screens were changed from glass to plastic. Brown has been dropped from the color range and other, more attractive, colors have been added.
In September 2008, a 160Gb model was released. Until 2008, when it became available in Canada, all Zune sales were confined to the US. Zune prices are set at a premium level to match those of the comparable Apple iPod models.
Zune sales have been disappointing by Microsoft's standards. Many units were sold during the first weeks after its release, and again after the upgrade. There was also a surge in Zune 30 sales after a price drop in 2007. At that time, the Zune was claimed to have 10% of the hard-disk based music player market, and 3% of the overall MP3 player market, but those levels appear to have dropped. In January 2009, an analysis of revenue from the Zune showed a drop of over 50% in the December quarter of 2008 as compared to 2007.
Wireless and DRM
Technically, there is much to like about the Zune. Apart from a Leap Year bug which caused problems for some Zune 30 users, reviewers have been generally positive about the screen display, battery life, sound fidelity and overall robustness of the device. Some concerns have been raised over the 'twist' interface, which varies the button functions as the user switches between menus, music and pictures / video. And Microsoft gets a plus for adding magnets to their earphones so they clamp together for storage. But most criticisms of the Zune relate to the wireless interface, the use of DRM, the lack of support for other formats, the PC-based Zune Player software, and the Zune Marketplace distribution system.
Wireless communication. As found on the original Zunes, wireless communication was a great idea crippled in the implementation. It allowed your Zune – with their permission – to find the Zunes of other users nearby, see what songs they were playing, add them to a Friends list and send music and video files back and forth between them. For copyright reasons, however, new songs received in this way could only be played three times and retained for a maximum of three days. In recent models the wireless capabilities have been stepped up so that Zune users in Wi-Fi hotspots can purchase and download music tracks, videos and games from the Zune Marketplace, and the three-day limit has been removed.
Digital Rights Management (DRM) – i.e hardware-based copy protection. Microsoft received a good deal of flak for abandoning their PlaysForSure DRM system, designed for downloading media on to the XBox gaming console and other devices, and inaugurating a new DRM system for the Zune. DRM in general attracts a bad press from the computer media and presents many disadvantages to the user; in effect, DRMed media is never owned, but only rented. Having said this, however, Microsoft's Zune DRM system doesn't appear to be any worse than any other. Like every other DRM system, it has, of course, been hacked. Microsoft has recently begun to offer lower-quality DRM-free versions of about 1 million out of 3 million Zune Marketplace tracks.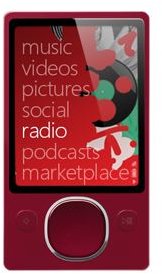 Other formats, Media Player and Zune Marketplace
Lack of support for other formats. It would be nice if Microsoft provided support for iTunes, the market leader in file formats and distribution; but realistically this is not going to happen. The Zune supports MP3 and WMA in addition to the DRM-protected Zune Marketplace tracks, and there are plenty of conversion programs out there to change other formats – including iTunes – into MP3 and WMA. After some criticism for only supporting the WMV video format, Microsoft has added MP4 and H.264 support to the later Zune models. Apple may be the elephant in the room, but as long as all devices find a common denominator in MP3 it is unfair to fault Microsoft just for seeking to provide an alternative.
The Zune Media Player software is essential for any PC required to hook up with a Zune. Reviews have reported difficulties in installing it and in getting it to connect with the Zune. It is available free to non-Zune owners although a subscription is required to connect to and use the Zune Marketplace. Users who already have media software which synchronizes MP3 players (including Microsoft's own Windows Media Player) may find it hard to understand why they need yet another program just to connect up a single device.
The Zune Marketplace has taken criticism over its 'points' system, whereby users purchase points with credit card dollars and then purchase songs, videos and games with points. While this adds a step to the process, it does give Microsoft an extra level of control, whereby they can adjust pricing over time and, if necessary, charge different rates to users in different countries. The Marketplace also offers a flat-fee monthly pass (currently $US15) which allows the user to download and play an unlimited number of music tracks. These tracks, however, cannot (legally) be copied to CD, and the user no longer has access to them if they stop paying the monthly fee. Recent changes have eased this restriction slightly so the user can now 'keep' ten songs a month.
Conclusion
Early releases of Zune software and hardware can be seen as 'testing the water'. Recent changes have all been positive and show that Microsoft has not lost its ability to react to customer feedback. While the Zune remains premium-priced it is unlikely to capture the public imagination in the way that the iPod has, but it has given Microsoft the opportunity to develop an acceptable pricing and distribution model which positions the company to take over if Apple should stumble. Meanwhile there is the rest of the global market to tap into.
Microsoft has patience and deep pockets. The Zune may not have been the roaring success that they hoped for, but its prospects are by no means dim.