Apple iPod Touch Tips, Hints & Great Resources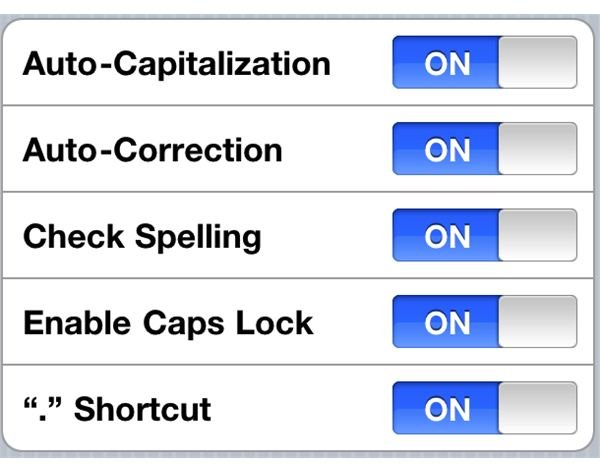 Using Your iPod Touch
If you liked the tips in my article, Eleven Tips For Your iPod Touch, you'll probably find something useful in this article. Here's a few more tips to help you get the most out of your iPod Touch that didn't make it into that article.
1. Double-clicking the home button while the iPod is locked will bring up volume control for whatever is playing. No need to unlock your iPod. If nothing is playing you can press the play button and the last track or podcast played will begin playing again.
2. Want to use caps lock? In Settings go to "General." From here click "Keyboard." You can turn caps lock on from here. To use caps lock double tap the shift key on the keyboard when typing.
3. When a keyboard button appears with ".com" on it, you can get other types of domains (.net, .org, etc.) by tapping and holding that key.
4. Even the first generation iPod Touch has the ability to play a sound when you get new mail or even make clicks when typing. To enable these sounds go to Settings, select General and then find the "Sounds" choice. Personally, I keep the sounds off because I think they get annoying and don't want it making noises while I am in a meeting.
5. Did you know you can download podcasts directly to your iPod? You can find new podcasts in the iTunes Store, or get the latest episode of podcasts you have on your iPod by tapping "Get More Episodes" from the list of episodes for that podcast. Unfortunately, you cannot subscribe via the iPod. You still have to do that through iTunes.
iPod Touch Resources
Here's some great iPod Touch websites to check out:
Appminute.com - Check this site out for videos of iPod apps. (A little disclaimer: I write for this site's sister site MyMac.com) You can also search for AppMinute in the iTunes store for the Appminute Podcast. If you like short and to the point podcasts, you'll like the AppMinute podcast.
Toucharcade.com - A great site for iPod Touch gaming news and reviews. Want to see upcoming releases for the iOS platform? This site has a lot of sneak peeks.
iPhoneAlley.com - The name says iPhone, but you can find iPod Touch news here also.
macrumors.com/iphone - This is the MacRumors sister site for iPhone and iPod Touch news. Once again, the name says iPhone, but the iPod Touch is covered also.
There are a lot of iPod Touch themed podcasts out there, as well as Mac themed podcasts that cover the iPod Touch.
One final tip: Play around with the Settings application. You never know what you might find. That is what I do, and I often find features I never knew existed.
So there you go, some more tips for your iPod Touch. If it turns out I forgot enough for a third article, I guess I'll have a trilogy!
References
Article based on author's experience.
Screenshot by the author.
This post is part of the series: iPod Touch Tips and Tricks
Want to get the most out of your iPod Touch? Here are some tips, tricks and resources you can use to make using your iPod easier.