iPod Touch Texting: How You Can Text Message From Your iPod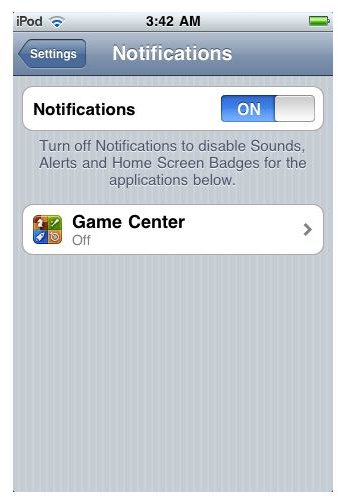 Message Received
The iPod Touch does not have a standard text messaging function at all, and will not have one until the iOS 5 unleashes iMessages. Since it does not have a cell phone connection it has to rely on different apps that are going to be able to mimic those functions that have made texting such an essential part of the smart mobile experience. This requires actually going outside of our normal conceptions of the "text message" and working on some alternatives.
Social Networking
The first place that a person should go for iPod Touch texting is to one of the primary app types that is used across all devices: social networking. With this there are a number of different options that are going to maintain a back and forth texting function while continuing to let you use your existing account. The most important one of these is the new Facebook Messenger app, which takes the Facebook chat and message hybrid and isolates it into an iPhone app. Here is separates it from the rest of the Facebook tools, such as check-ins and status updates, and makes it easier to have long conversations that work just like text messages. It will only work between iPod Touch devices, or even with an iPhone, through the users' Facebook accounts.
Beyond these type of regular social networking apps, you will find even better free texting for the iPod Touch by using Instant Messaging specific apps. AOL Instant Messenger, or AIM, remains the primary option for most users because of how many people already use it and how simple it is to work from a mobile device. The format of the text message on the iPhone came directly from Instant Messaging services, and its similarity to the AIM iPod Touch app is remarkable. It will again work across platforms, allowing for iPod Touch texting to phones, computers, and non-phone mobile devices.
Notifications
If you are going to use one of these apps, you are going to have to allow it to have Notifications. These Push Notifications will then force you to notice when messages actually come from one of these apps, which will then pop up as if it was a regular text message. You could then return to the app to reply to the text message, keeping it all in-line with the back and forth standard communication model that most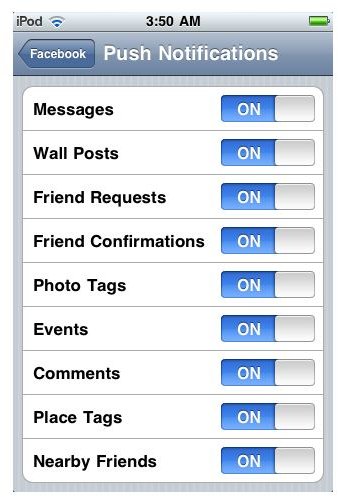 people associate with text messages.
To do this you start by going into your main iPod Touch Settings. Go ahead and select Notifications, which will be at the bottom of the top block of options directly below Wi-Fi. Once you select this, you will go in and choose to turn the Notification switch to On. You will be notified about messages as long as you have turned on Push Notifications for the chosen apps. To do this, go back into Settings and head to the bottom of the standard options, which is where all the settings for the specific apps are listed. Choose the app in question, such as Facebook, and then locate Push Notifications. In there you will often have a variety of different options for exactly what features you want to include for the Push Notifications. These will be dependent on the app you are working with, and with something like the standard Facebook app it could include things like Wall Posts, Events, Photo Tags and Friend Requests. You want to make sure that you set the section for Messages, or a comparable option, to the On position. That, in conjunction with setting the iPod Touch's general Notifications to On, will ensure that you receive pop-up messages indicating that the message has come through.
Wi-Fi
Since the iPod Touch is not connected to a 3G network, you will only have access to the iPod Touch texting when you are connected to a solid Wi-Fi network. This means that you do not have the kind of mobility with your text messaging as you would on a smart phone like the iPhone, but if you are in known areas where you automatically connect to the available Wi-Fi network then you will have free access to send and receive messages through one of the apps. If you are not in range, you will then just get the Push Notifications from a message once you do secure a connection.
Future
The iPod Touch is not equipped to do the type of real-time communication that the iPhone offers, but it's working on it. FaceTime and the eventual iMessages feature, which lets you send real-time text messages between iOS devices, are pushing it in that direction, but the current iPod Touch 4 is still a few step behind. Until then, you can try to utilize the social networking apps that you do have access to and keep an eye on them as the messages go in and out.
References
Article written based on author's own experience.
Screenshots by Shane Burley.