iPod Touch Tricks: Use Your iPod Touch as a Phone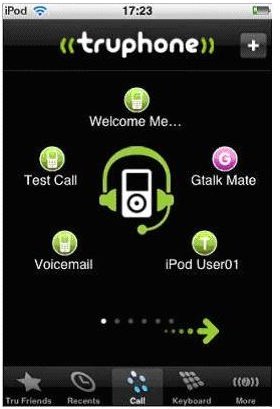 The latest iPod Touch and iPhone are very similar devices. When Apple added the front-facing and regular camera to the latest model of iPod Touch, it became almost identical to the iPhone. The only real feature missing is the phone. In the past, it required a jailbreak to use your iPod Touch as a phone, but now there are some wonderful apps you can use. Thanks to Voice over IP, and some great apps such as Skype and Line 2, you don't even have to jailbreak your phone to solve this problem. Here are a few of the top methods to try.
Truphone App
The Truphone app can be installed so you can use your iPod Touch as a phone. It allows a user with Wi-Fi connection to make and receive free calls via voice-over Internet Protocol (VoIP), with other iPod Touch owners, with users of Google Talk's messaging service, and with customers of Truphone's Internet telephone service. This application also allows users make calls to any number around the world, including landlines and mobiles, for 1/3c/2.1c a minute.
You can use Truphone to send and receive txt messages to other Truphone users and phone contacts, and you can also do instant messaging to chat with friends on Facebook, Skype, MSN, GTalk and AIM. It offers you free voicemail, and you get a push notification of new messages.
Truphone also offers background calling, which allows you to browse the Internet or play with other apps while you are talking. This app is free and is available in the App Store on your iPod Touch or through iTunes.
Skype App
You can use the Skype app to make calls on your iPod Touch. Along with the Skype app, you will need a headset with a microphone, and have a constant Wi-Fi connection on your device. Once you have it installed, you will be able to call any Skype user free, or anyone else very cheaply.
Perform the following steps to use Skype to turn your iPod Touch into a phone.
Plug your headphones into your iPod Touch headphone jack.

Plug the microphone into the sync connector located on the bottom of the device. This microphone does not come with your iPod, so you will have to purchase one. If you own a second generation iPod Touch or newer, you can purchase an all-in-one headphone and microphone combo that plugs into the headphone jack. If you have a first generation iPod Touch, you will have to purchase the headphone and microphone separately.

Navigate to the App Store on your iPod Touch by tapping the icon on the main screen. Search for, download and install the Skype app. This app is free.

Sign up for a Skype account if you don't have one already. This is also free.

You will need to purchase credits from the Skype website if you want to call a landline or other mobile phone. You can call any Skype users for free.

Tap the Skype app on the iPod Touch screen, and then log in with your username and password.

If you want to call other Skype friends to make free calls, you will have to add them. You will need either their Skype login name or email address before you can add them. Press the + button in the top right corner to add friends.

Select the name of the person you want to call from your Skype friends list. You will have the choice to either call or SMS this person. Select what you want to do, and Skype will either call that person or you will be able to send them a text message.

If you want to call a landline or cell phone number, tap the Call button at the bottom, enter the number, and then press Call to dial the number.
Line2 App
The Line2 App is another free app to download and try. After you use it for 30 days, however, you will have to pay $10.00 per month. Using Line2, you have unlimited calling in the US and Canada, as well as unlimited text messages, so paying $10.00 per month is a lot cheaper than any iPhone plan you can find. The SMS app you get with Line2 looks nicer than the iPhone's message app, too.
Line2 has to run in the background so it can notify you of incoming calls, but you will not even know it is there. When you sign up, they will give you a number that is available in your area code. You also have the option to use an existing number if you want to change completely from your cell phone to your iPod Touch. You can forward calls to other phone numbers if you are not available to take a call, and actually have the option of hitting the Forward button any time someone calls you.
If you plan on using your iPod Touch as a phone for a long while, Line2 is probably your best bet. The low monthly cost does not even compare to what your cell phone bill would be with the iPhone plan added to it.
As you can see, you have many options for turning your iPod Touch into a phone. All of the above apps work great, and it comes down to personal preference as to which one you like best.
References
LifeHacker: https://lifehacker.com/5636976/how-to-turn-your-ipod-touch-into-an-iphone-4g-edition
Skype: https://www.skype.com/intl/en-us/get-skype/on-your-mobile/download/iphone-for-skype/
Apple Truphone App: https://itunes.apple.com/us/app/truphone/id319994618?mt=8#
Image Credit: https://news.cnet.com/turning-the-ipod-touch-into-a-phone/#ixzz1TGD7y33D