How Do I Get Facebook on My iPod Touch: Tips and Tricks for Installing, Uploading Photos to, Chatting In, and Blocking Facebook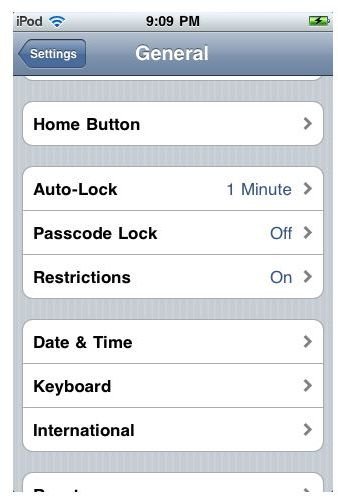 The Social Network
Facebook is not only a popular social networking website and service; it is a defining element of modern communication and Internet use. Facebook acts as the base page for much of the world and is a foundation both on the computer and on mobile devices. The iPod Touch, as a unique MP3 and portable device, is just as tied into Facebook and has a framework that makes it easy to interact with it constantly through a format that is easy on the go. Here are some tips for social networking through Facebook from the iPod Touch in a way that keeps it intuitive and useful.
Actually Getting Facebook
The principle thing to note is that you do not need to utilize Safari or even any alternate apps to connect, because there is a normative iPod Touch Facebook app. This app, which is native to the iPod Touch and iPhone format, allows you to log into your account and perform all necessary functions, although the miniature element and touchscreen apparatus curtails interactivity. You have the ability to look at your news feed, add new friends, comment or "Like" different things and upload photos. You can take photos on your iPod Touch and upload them through the Facebook app directly, allowing you to browse through your iPod Touch's Photos.
You can start by searching for the iPod Touch Facebook app by name at the iTunes App Store on your iTunes account on your home computer or from the App Store on your iPod Touch. Choose the official app, which usually remains one of the top apps for download and can be found easily with a Power Search. If you are connected to a reasonable Wifi network with your iPod Touch, you will be able to download and install it. Once you do, you can drop it into a folder with other iPod Touch social networking apps that you may have, such as Twitter or Craigslist. You do not have to download the app from a computer and sync it to your iPod Touch, as it is not so large that doing so would create a problem.
Photos
As mentioned before, you will probably be utilizing Facebook quite often to upload photos. This function is built right in, so you can access it easily. Begin by going to Photos on the Home screen, which will be in the middle of the bottom row unless you have reorganized the icons. Begin uploading photos to Facebook from the iPod by hitting the + button in the upper right hand corner to start a new album, or open an existing album. When you are in an album, select the camera-shaped picture in the upper right hand corner. This will give you two options: take a photo or choose one from the library. If you want to upload photos to Facebook from the iPod Touch, choose Library. It is important to note that you will only have this option on an iPod Touch that has a camera built in. Once you choose this, it will upload and save the photo to your account. You may have to wait for the connection speed of the Wifi network you are using.
Chatting
Another common question is how to use Facebook chat on the iPod Touch since, as with most iPod Touch social networking apps, the chat function is one of the most central functions. As with the photo tool, this works as a standard element of the Facebook functionality. From the main screen with the primary nine options, select Chat on the bottom row to the right of Photos. You will be given a list of all of your online friends, both active and idle. Select one and enter into a basic Instant Message chat format, which you can go directly back to even if you leave the application. Since the Facebook update, they can respond to you even if you are not online and it will automatically be a message in your Inbox later.
Blocking It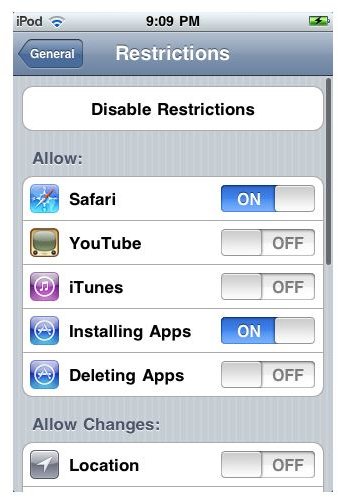 There are many limits you can set on your iPod Touch, especially if you want to restrict what a younger user can access. If you want to block access to Facebook on the iPod Touch, you are not going to find a clear option that will prevent use without making it unviable. Essentially, you have to delete the Facebook app from your iPhone, although you are really just removing it until it is re-synced or downloaded , since it is free and has already been saved. Go to the Facebook app icon on your desktop and hold down on it until all the icons begin shaking. Hit the X in the upper right hand corner of the icon. When it prompts you, choose to delete the app.
Obviously, this is not the complete answer for how to block access to Facebook on the iPod Touch. You can apply some restrictions that are built into the iPod Touch that provide more control. Go to Settings and select General. Go down to the fourth block of options and select Restrictions, which will be directly below Passcode Lock. Choose Enable Restrictions at the top of the screen, which will then ask you to enable a password. Once this is set, you can establish restrictions to a number of different features such as the built in apps, downloading new apps, purchasing inside apps, podcasts, multiplayer games and many others. Go to Safari, which will be the top option, and turn the switch to Off to render it unusable. Go to Installing Apps, which will be second to the bottom, and turn that off as well. This will prevent the user from having any way to access Facebook at all.
References
Photos: Screenshots by Shane Burley.
Source: Author's own experience.
This post is part of the series: Troubleshooting iPod Touch Social Networking
Here are articles with "how to" guides, tips and tricks, and troubleshooting for iPod Touch social networking tools.