Overview of SanDisk's SlotRadio Card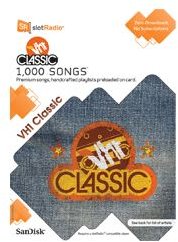 Cell phones and MP3 players store and play songs. With a headset and a charged battery, you can listen to your favorite songs where ever you are. Some devices save music files directly in the player, such as the iPod. Most cell phones let you play songs that are stored on the phone and on the memory card. Whether the songs are stored on the device or on the memory card, you still have to download the files, either from the iTunes library or some other online music directory. An alternative to downloading music files to the device or to a computer is to purchase a memory card pre-loaded with music.
Get Thousands of Songs on One MicroSD Card
SanDisk developed a memory card that is pre-loaded with thousands of songs. SlotRadio cards, as they are known, are microSD cards that contain MP3 music files. They are designed to fit the microSD slot of MP3 players and cell phones. Once inserted, the device will read the card and start playing the songs in the playlist. Each playlist consists of songs that are within the same category. As you listen to a particular song, if you don't like it, simply skip it and listen to the next one on the playlist. The experience is similar to listening to a radio broadcast, where songs are played one after the other, except slotRadio doesn't include commentary by a radio host.
Available Playlists
There are several cards to choose from. Each one contains songs that are related to a certain genre. Here are a few of the available cards:
VH1 Classics - Features 1,000 songs arranged in seven playlists featuring several artists including Beastie Boys, Bon Jovi, John Mellencamp, No Doubt, The Police, and The Rolling Stones. Price: $39.99.
80's and 90's - Contains great songs from the 1980's and 1990's including BillBoard topping artists like 98 Degrees, Backstreet Boys, Blues Traveler, DeBarge, Heavy D & The Boyz, Janet Jackson, Michael Jackson, New Edition, and Spice Girls. Price: $39.99
Classical - Over 60 hours of classical music from composers including Beethoven, Brahms, Handel, Haydn, J.S. Bach, Mozart, Puccini, Tchaikovsky, and Verdi. Price: $39.99.
Billboard Decades - Contains hundreds of songs in several categories including Chillout, Oldies, R&B Classics, Rock Classics, and Workout. Artists from the 80s, 90, and 00s are represented in this card.
DailyMix - Features hundreds of songs categorized into several groups including BBQ, House Party, Lazy Sunday, Lounge, Quiet Storm, and Road Trip. Price: $39.99.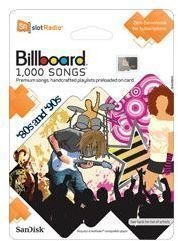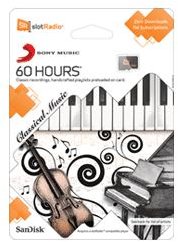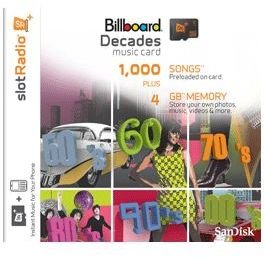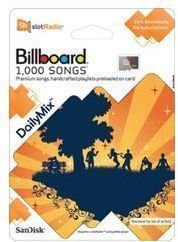 Compatible MP3 Players
These cards are not compatible with all MP3 players or cell phones. SanDisk's MP3 players are compatible including the Sansa Fuze+ and the Sansa Clip+. There are three versions of the Sansa Fuze+ including the 4 GB model, the 8 GB model, and the 16 GB model. Each one features a microSD card slot which can hold standard microSD memory cards or the slotRadio version. The Sansa Clip+ MP3 player is available in three models, including the 2 GB, 4 GB, and 8 GB. Each one has a compatible microSD card slot. The price of the Sansa Fuze+ starts at $79.99, while the Sansa Clip+ has an entry price of $39.99.
Compatible Cell Phones
There are a few cell phones which are compatible with SanDisk's slotRadio, but they are all on the Verizon network and all of them are BlackBerries. If you own a BlackBerry 9550 Storm 2, BlackBerry Curve 8530, BlackBerry Tour 9630, BlackBerry Storm 9530, BlackBerry Curve 8330, BlackBerry World 8830, BlackBerry Pearl Flip 8230, or BlackBerry Pearl Flip 8130, then you can listen to nearly a thousand songs on a single microSD card. You won't have to spend time searching for songs and waiting for them to download to the smartphone. Simply insert slotRadio and listen to an endless playlist of enjoyable music.
Disadvantages
As with any piece of technology, there are some disadvantages. Unlike songs that are stored on memory cards or MP3 players, songs stored within the playlist of a slotRadio card can not be deleted. Instead you would have to skip the song to move to the next one. There isn't an option to rewind or go to the beginning of the playlist. Also, you can't rearrange the songs to listen to them in a different order. Those familiar with the shuffle feature of the iPod would certainly miss this feature while using slotRadio. The music files in slotRadio can not be copied and listened to on another device.
References
Image Credit - Images courtesy of sandisk.com.