Sony Walkman MP3 Player Instructions: A Beginner's Guide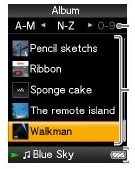 Getting Schooled on the Walkman
When most people think of a Sony Walkman, they imagine a cassette player with large earphones - and they are probably thinking it's still the 1980s or 90s. Sony has released a few MP3 players under the Walkman name, so you can definitely ditch the cassettes when using this product.
You do, however, need to know how to use your MP3 player, including uploading and playing music. If you bought the device second-hand, you may not have the Sony Walkman MP3 player instructions handy. This tutorial will give you some general operating instructions so you can use your player.
Setting It Up
Before you can start uploading your music to your device, verify that you have the right operating system for the player. Generally, a Walkman will require Windows and Windows Media Player or iTunes. You may have to download the latest service pack for your operating system.
Once you determine if you have the right operating system, you must install the Walkman software. To do this, follow the below instructions:
Connect the MP3 player to your computer via a USB cord. You must connect the device directly to the computer. You can't use any type of hub since your computer likely won't recognize your Walkman through these devices.
Once connected, go to your Start menu, and select either Computer or My Computer.
Find the Walkman device. Double-click on it.
Go into Storage Media.
Within the Storage Media folder, you should see Setup.exe. Double-click this icon to install the software.
After the software installation is done, you should see the Walkman Guide icon located on your desktop. Double-click on this icon.
You can now start transferring your music. If your computer can't detect your device, unplug any other devices connected to the computer. These may be interfering with your Walkman.
Adding Music
Once your MP3 player is set up, you can now start transferring media to it from your computer. In iTunes, you can use the Content Transfer window to move media onto your device. In Windows, just open up Windows Media Player 11, and copy data onto your device.
You can also add music to your player without using Windows Media Player or iTunes simply by dragging and dropping data onto your player. To do this, follow these directions:
Find your device in Computer or My Computer.
Open up the window with your media.
Select and drag that media onto your device. You can select multiple files by either using the Shift or Ctrl key on your keyboard.
Keep both windows open until the transfer process is completed.
Playing Music
Now that you have the data on your Sony Walkman MP3 player, it's time to start using it. Start at the Home menu. To navigate to this menu, press the Back/Home button. Your Walkman has a 5-way button. This button allows you to select any media within the Home menu. Categories within this menu include the following:
Shuffle All: Shuffles all of your media - this is useful if you don't want to listen to one song at a time.
FM Radio: Pull up local radio stations in your area.
Photos
Music
Videos
Settings
Now Playing: Shows you the information on your currently selected song, movie or photo.
Voice Recording: You can record a certain amount of audio, including songs from the FM station or even a lecture in class.
Playlists: You can create customized playlists of your favorite songs.
If you have a lot of MP3 files on your player, then you probably want to be able to easily find a particular song. To search for a particular song, follow these instructions:
Hold down the Back/Home button. The Home menu should appear after a few seconds.

Scroll down to the Music Library, which is represented by a musical note.

Press the Play/Pause button. You should now see your entire Music Library.

Navigate to the All Songs option, and hit the Press/Play button.

Scroll down to the song that you want to play, and then press the Play/Pause button to start the song.
If you want to pull up an entire album, follow these steps:
Repeat the first two steps provided above on how to find a song.
Navigate to the Album options, and hold down the Play/Pause button.
Navigate to the album that you want to play, and select the Press/Pause button.
Select the song in the album that you want to start with and hit the Press/Play button.
Your Walkman will now play all the songs on the album in order.
While these Sony Walkman MP3 player instructions will get you started, you should read your manual for more detailed instructions on how to use your player.
References