iPod Shuffle Tips and Tricks: How Do You Charge an iPod Shuffle?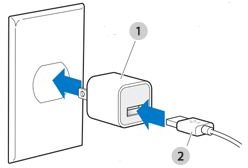 iPod Shuffle Design
The iPod Shuffle is the least involved of all the iPod models, forgoing the features of the iPod Touch for a barebones model that just plays songs randomly off a playlist and with a price that is significantly lower than all others. Because of this format, and lack of a touchscreen or LED readout, there is less understanding of how to actually interact with it on a basic level. This even brings up the question "how do you charge an iPod Shuffle?" which suggests that its basic functionality is different than the other modern types of iPods.
How to Charge the iPod Shuffle
When looking at how to charge an iPod Shuffle that is the 3rd or 4th generation, you have essentially two options. The primary option for charging the iPod Shuffle is simply to plug it into the computer that you use to sync and transfer over audio. This is a USB cable that you plug from the headphone port on the iPod Shuffle to a high-speed USB port on your computer that is active. Make sure that the computer remains active during this process and that this
is not a low-speed USB port, otherwise the iPod Shuffle will not charge.
The second option is to charge the iPod Shuffle from a regular power outlet without your computer as an intermediary. For this, you have to take the same USB cord that you used to sync and charge your iPod Shuffle on your computer and plug it into an AC adapter before plugging it into the power outlet. From here you plug the cord into your iPod Shuffle in the same way that you did when charging through your computer.
If you are trying to work with a 2nd generation iPod Shuffle, you have a different process because you have to use an iPod Shuffle dock. This dock is plugged into your computer and you plug your iPod Shuffle into the dock, which is also how you do your audio track syncing. The same process is true when you want to charge the iPod Shuffle with the wall plug, which just means that you take the cord from the dock to the computer and use the AC adapter to plug into the wall.
iPod Shuffle Battery Life and Charge Time
The iPod Shuffle battery life is different than other models, and you cannot expect it to run exactly the same. When you are learning how to charge an iPod Shuffle you will notice that it takes two hours to charge up to the 80 percent and an additional hour to get up to the full 100 percent. The newest incarnation of the iPod Shuffle has a battery life promising fifteen hours of audio playback, which is a large amount. Since it is not quite as easy to see where the iPod Shuffle battery life is at, it is best to charge it in between every use.
References
Source: Author's own experience.
iPod Shuffle: How to Charge the Battery, https://support.apple.com/kb/ht1477