The Best Way to Transfer Music from iPod to Computer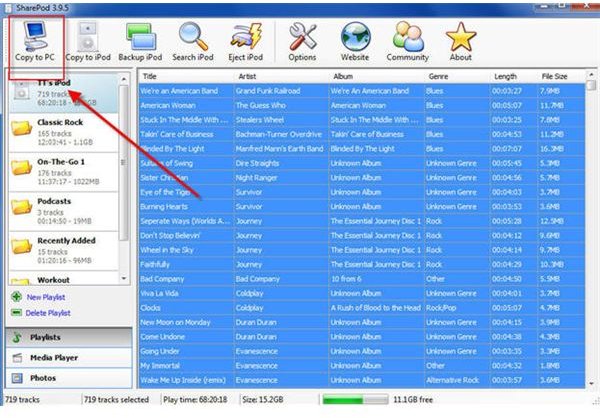 How to Begin
Before you can transfer music from iPod to computer, you must make sure you have iTunes installed and have authorized your computer to make changes to the iPod. You won't have to use iTunes after that, but Sharepod can't do anything with it until you authorize it. But if that's already done, you can move onto the next step.
Go to getsharepod.com and download the free Sharepod software. Install it on your computer. You can do it in just a couple of clicks, and you won't have to restart your computer for it to take effect.
Plug your iPod into your computer using the USB cable designed for the purpose. Open the Sharepod software and wait for it to register that your iPod is plugged in.
When it registers, you should see a list of all your songs showing up in the Sharepod pane.
Transfer Music from iPod to Computer
Highlight the tracks you want to copy to your computer. You can just click on the track name, or select multiple tracks by holding down the "Control" key. Select all the tracks at once by pressing "Control + A".
With all the tracks highlighted, click the "Copy to PC" command, located in the top left hand corner of the screen. A dialog box will appear asking you where you want the copied tracks saved. Navigate to a folder where you want them saved using the "Browse" button and select it.
You can also import the music right into your iTunes library by checking the "Import to iTunes" selection. But if the tracks are already located in your library, there's no need to do this.
Press "OK," and your music will automatically begin copying from the iPod to the computer.
When the process finishes, navigate to the folder where you saved everything to make sure all the files are present. Press the "Eject iPod" button to safely remove your device.
Tips to Remember During Sharepod Use
Make sure that you close out of iTunes before opening Sharepod. It will work if it's still open, but if iTunes makes any changes to your iPod, like a sync or backup process, you might lose data.
If Sharepod doesn't register your iPod when you plug it in, wait a few minutes. If it still doesn't work, restart the software or try a different USB port. It works better if you plug the USB cable into a USB port on the computer rather than one on a monitor or keyboard, as some feature.
You can use Sharepod for more than just to transfer music from iPod to computer. You can add tracks to your iPod by dragging and dropping, and you can delete tracks by pressing the "Delete" key.
Sources:
My own experience with iPods and Sharepod