Discover the Best Zune HD Apps: Our Top 10 Roundup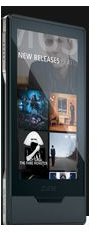 Although there are some cool third party Zune HD applications out there, this article will not recommend them. A check through Zune HD user forums indicates that they may not go down well with your Zune HD player. For instance, your player may reset each time you exit a third party application with the player going back to the main menu.
Some users have even complained that their players were unable go into sync with their computers after downloading certain third party applications. To be on the safe side, install only applications endorsed by Microsoft, unless you are pretty sure a third party application would not interfere with the enjoyment of your Zune HD player.
Let's get down to the recommended Zune HD apps now.
MSN Weather
Planning an important outing and want to know what the weather would be like? Well, you can get a forecast via the MSN Weather application. All you need is access to a Wi-Fi hotspot and you could check what the weather would be like at your preferred location. This is indeed a useful application when you're travelling.
Calculator
The calculator application can handle normal calculations and go into the scientific mode. All depends on the way you hold your Zune HD. If you hold it upright, it operates in Standard mode. Lay it flat and it switches to the Scientific mode. So, the next time you need to make a scientific calculation while on the go, you'll not have to scratch your head if you have the Calculator app in your Zune HD.
Piano
Feeling a little bored after playing some games over your Zune HD? Maybe you could pass your time playing the Piano in the touchscreen mode. Use this application long enough and you'll be able to appreciate piano notes and may even be motivated to learn to play the real piano.
Social Networking
With social networking being the in-thing today, you can easily send updates to your Facebook and Twitter accounts. With nearly everyone having a Facebook or Twitter account, this application would come in handy for Zune HD users especially when they are not at their computers.
MSN Money
If you wish to keep tabs on the latest in stocks and currency, you would appreciate the MSN Money application. Among the menu items are markets, currencies, articles and watchlist.
You get to study overall market conditions and how exchange rates of currencies fluctuate, read money-related articles at msn.com and track the performance of your preferred stocks.
Alarm Clock
The alarm clock application for Zune HD does not only allow you to set a buzzer but also choose a selected playlist or your favourite radio station to wake to. There's also a sleep timer to boot in case you're fond of listening to music as you fall asleep.
Stopwatch
Stopwatch needs very little explanation. You can use it as a productivity tool if you're looking forward towards reducing time taken to complete a task. If you're writer you want to use it for timed writing exercises.
Windows Live Messenger
You may already be familiar with Windows Live Messenger, but let's still explain Messenger. Again it lets you stay connected when on the go. Apart from checking updates over Facebook, Flickr and Myspace, it allows you to chat with your friends. Facebook chat is supported as well. The chat mode is no different from the one you go into when you log into Messenger in Windows over your PC.
Labyrinth
iPhone users enjoyed this game and were waxing lyrical about it. It's now available as a Zune HD application.
Solitaire
If you had enjoyed playing this game on your Windows PC and miss it while you're away from your computer, here is a chance to enjoy it via your Zune HD. So, the next time you get bored waiting for someone, you can kill your time playing this game.
The above Zune HD apps can be obtained by connecting your Zune HD player to the Zune Marketplace.
References
https://www.mobiletechworld.com/2010/04/28/three-new-zune-hd-applications-released/
https://www.zuneboards.com/forums/zune-3-x/32129-list-applications-working-w-latest-zune-software.html
Image Credit: https://www.zune.net