The Best 5 Zune FM Transmitters

FM Transmitters
Red this article and find out how you can extend the features of your Zune player by getting a FM transmitter for your Zune. This Zune accessory will enable you to play your music straight from your Zune player onto your car radio. Here are the best five choices. Some are simple and feature a clean and elegant design, and some are more advance and even include remote control. Your car stereo doesn't even have to be a new model. These FM transmitters will work with any FM radio. And also the car should have power plug for a cigarette lighter. Here are the top models starting from the simplest slowly building up to the best Zune FM transmitters.
Monster ZU FM XMTR300 Radioplay 300
This item is the simplest solution. The Zune player is connected with this accessory thru the headphones output. The FM transmitter is powered from the cigarette lighter and it doesn't charge your Zune player which is a disadvantage. The frequency on which it is transmitting is shown on the base part of this accessory. It doesn't have remote control and doesn't support SD memory cards or USB drives. The best thing about this Zune accessory is the simple design, it's compatible with other players and it costs just $21.62 on Amazon.
Digital Lifestyle TransDock micro FM Transmitter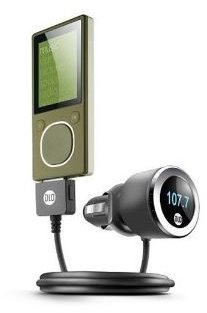 This FM transmitter is specially built for Zune. It features a technology called IntelliTune which will in just one click; automatically find the best frequency for transmitting. It also charges your Zune player while playing music. The TransDock Micro is compatible with Zune HD 16, 32; Zune 4GB, 8GB, 16GB, 30 GB, 80GB, 120GB. The accessory comes is covered with silicone cover to make it corrosion free and improves grip. This item is currently the best priced on Amazon and it costs just $5.95.
LCD Full Range Fm Transmitter and Charger for Microsoft Zune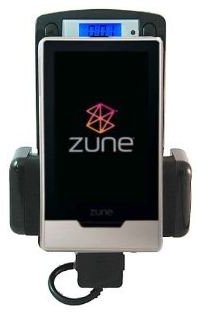 What makes this Zune transmitter different from the rest is the capability to securely hold your player in place. This accessory charges your Zune and shows the track number on a LCD screen while it is playing. Overall, nothing special except for the holding feature. It can be bought on Amazon for $19.98.
PictureSound BT Ultimate Bluetooth Car Fm Transmitter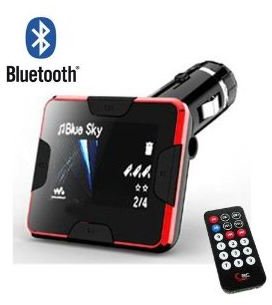 It's the second best choice in this top five Zune FM transmitters comparison. It features Bluetooth connectivity, line support, SD card up to 4GB and has USB port. It also has remote control but there is no folder change which makes finding songs difficult. The Bluetooth enables you to connect your phone and stream music from it or even make calls. Remember that the call is transferred thru the air on to your car radio, so the car near you can also tune in to your conversation. The station number is showed with big numbers but the song name is with small letters which makes it difficult to read while you're driving. You can buy this accessory from Amazon for $30.40.
Soundfly AUX MP3 Player Car Fm Transmitter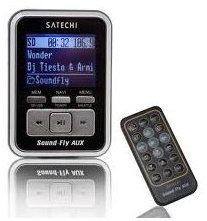 This is probably the best choice. It features 1.5 inch black LCD screen that shows artist name, song name, playing time and folder name. It can memorize up to 4 FM predetermine frequencies and can power on/off automatically. This FM transmitter has 3.5 stereo input, USB port and SD slot for memory cards. There is also the great remote control for easy usage. From all of the FM transmitters listed above, this is the best and the $39.99 are worth investing. You can buy this accessory on Amazon.