Philips GoGear MP3 Player Instructions - Master Your MP3 Player with These Tips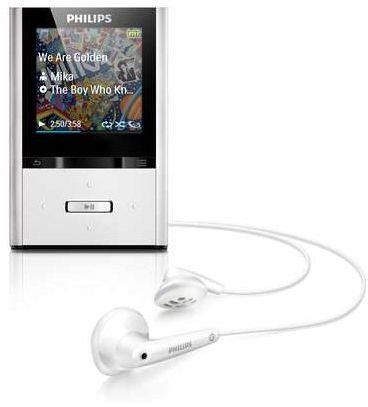 Before You Start
When you first open the Philips GoGear packaging, you must charge the player. Use the provided USB cable and connect it to any available USB port on your computer. Your computer needs to be turned on in order for the player to charge properly. If you have a USB AC adapter, you can charge the player in a regular power outlet. Depending on your model, charging time can take between a few hours to six hours for a full initial charge.
If you do not have the original manual for your player, download it from the Philips website. Enter your model number in the search box, which is located on the player itself. You'll see a link and in some cases a picture of your player. Press the link to download the manual and to view step by step Philips GoGear MP3 player instructions for your model.
Image credit: Philips GoGear MP3 Video Player SA2VBE08SC / Philips.com
Learning the Controls
The controls vary greatly based on the model of Philips GoGear you have. The navigation controls, which allow you to jump between songs, videos and menu options are typically located on the front of the player. The arrow, which resembles a U-turn, allows you to go back to a previous menu, such as jumping from the currently playing song to the main menu.
The play/pause and volume buttons can be located on the front or sides of the Philips GoGear player. The power button is the biggest variation. On some models, the power button is located in the center of the navigation buttons and looks like a small circle with a line near the top. Other models have a slider on the side of the player that turns the player on and off.
Place Media on the MP3 Player
There are several methods of placing media files on the MP3 player. You can use most music management software, such as Windows Media Player or Winamp to manage and sync your files. You can either sync automatically when your device is connected or drag and drop files to your player through the software of your choice. Though these instructions apply to a Coby player, the steps are the same for adding music to a Philips GoGear MP3 player.
The next method is to drag and drop files using Windows Explorer. Go to Computer or My Computer. Open the Philips GoGear folder. Drill down to the media folder of your choice. For instance, to add music, open the Music folder. Either copy and paste or drag and drop files from the original directory on your computer to the Philips GoGear directory.
All media files are categorized on your MP3 player as music, video and pictures. Select the appropriate category to play or view files on the Philips GoGear.
Managing Music and Video
There are two ways to manage your music and video files. Either use a media management software or place files into labeled folders. For instance, place all music files into a folder labeled Music and all videos into a folder named Videos. You can use sub-folders to further organize your media collection. The easiest method is to use software, which allows you to search for and play files easily on your computer before adding them.
Please note that the Philips GoGear MP3 player only supports certain music and video types. Audio types include: MP3, WMA, FLAC, APE and WAV. Video types include: MP4. Photo types include: JPEG, JPG and BMP. Use the provided Philips software to help convert any media files to the correct format before placing them on your player. You can also use other conversion software if desired.
Maximizing Charge
The best way to maximize your charge is by letting media files play without skipping constantly. The more you use the controls, the faster the player will drain. Also, change the player settings to turn the display off within five to ten seconds of inactivity. The less the screen is lit, the longer your charge will last.
Another method for keeping a charge is to charge more often. The more you fully use and charge your Philips GoGear, the longer the battery will last. If you charge your battery and don't use it for a few weeks, the charge will not last as long as if you had used the player a few days after charging. Though it may seem obvious, always turn your Philips GoGear off when it is not in use.
Using With Other Devices
You can use your Philips GoGear to connect to TVs and stereos. For televisions, you must use an audio/video (AV) cable with an 1/8 inch stereo end, which connects to your MP3 player. You can purchase these cables from Philips or most electronics stores.
To connect your device to your stereo, use an auxiliary cable. This connects your device to the audio-in jack on your stereo. If you would like to use your Philips GoGear MP3 player in your car, you must use an auxiliary cable or FM transmitter. If you do not have an auxiliary port, use an FM transmitter, which plays your music through an available channel on your radio.
Updating
To get the newest features from Philips for your model and to fix certain bugs, keep your MP3 player updated. Visit the Philips Support site and enter your product model. Select your model to view the product page. Select Software and Drivers to download the latest software, firmware and drivers for your Philips GoGear MP3 player. Your player must be connected to load firmware.
If an update does not fix any problems you may be having, use the Philips Support website to search for possible solutions. Once you are on your model's support page, you can view FAQs, view support information, check your warranty and even order replacement parts. By using the guide, you can troubleshoot most problems that occur.
References
Philips GoGear MP3 Video Player