Top 10 Microsoft Zune Games in 2011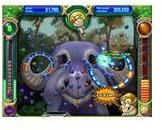 Peggle
Simply put, this is the most addicting game ever. Peggle is a pinball like game that satisfies all of your multitasking, ADHD induced needs with its amazing sights and sounds. This little game really is more like Breakout plus pinball – it offers 55 levels of casual gaming perfection. The object is simple, destroy colored pegs with a limited supply of shooter balls. Each level has an array of blocks and pegs to contend with. There is also a duel mode in which you can challenge a friend or play against the computer.
Project Gotham Racing: Ferrari Edition
For sheer beauty this game is off the charts. Each of the cars in this game is beautifully rendered (and there are a boatload of them - 1985 Testarossa, 1969 365 GTB/4 (Daytona), 1997 355 F1 GTS, 2003 Challenge Stradale, 2004 F430,1987 F40, 2002 575M Maranello, 2006 599 GTB Fiorano, 2003 Enzo Ferrari, 1995 F50, 1996 F50 GT and the2006 FXX) and the entire environments are crystal clear and full of detail. The London, Tokyo, and New York tracks are available to race using the intuitive tilt and touch controls of the Zune. There are both a 33 event career mode and head-to-head mode that allows up to three other players to fight it out in a wireless network race.
AudioSurf
If you are a fan of listening to your music while gaming then this is the game for you. Audiosurf uses an adaptive track that you race a car over. While driving on this ever changing track you collect colored boxes (called cars) similar to the video game Klax. Once you collect three or more you can drop them off to score points. This game incorporates your entire audio library and can be set to a watch only mode that changes your Zune into an active audio/lightshow. With unlimited replay ability this one is well worth the download.
Lucky Lanes Bowling
For a "flick" game this one has a bit of pizzazz and style. The developers of Lucky Lanes Bowling have created a cute and funny experience that is perfect for a quick diversion. There are several different challenges and levels with stellar graphics. The simple interface needs absolutely no instruction because the flick controls are intuitive. It is really a great game for someone who has five minutes to burn waiting in line and wants to impress everyone around with the state of the art Zune.
Snood
Snood is a Tetris type puzzle game perfect for someone who is tired of blocky Tetris mods like Sir Tet. Snood uses shapes and colors to create faces that are used as matching devices along with a few surprises along the way. Not a new idea by any means but still fun none the less.
Vans Sk8: Pool Service
Bucky Lasek and Omar Hassan star in this portable skater game. The graphics are great and the user controls are maybe even a bit too friendly. Choose either of the skaters and enjoy the empty pool at the old rec center. Work to clear all 30 achievements and conquer even the most difficult events. With 13 moves, customizable decks and highlight reels this one is great for X-games fans.
Zune Hero
Zune Hero is the Zune equivalent of Guitar Hero. It has all new graphics and a three string and five string mode as well as five difficulty settings ranging from easy to expert. You can also customize the number of notes that show up on the screen at one time.
WordMonger
If you are a wordsmith then WordMonger is the game for you. It's like bejeweled but instead of matching gems you move letters around to form words. The game is deceptively simple yet amazingly addictive.
Chess and Sudoku
These two standards complete the top ten Microsoft Zune games. There is nothing new or innovative about either of these; they are just time tested greats. The chess game allows you to play head to head with a computer opponent or network against other live players.
While there aren't many games for the Zune as of this writing, the ones that are available are more than just filler. These Microsoft Zune games are high quality and more than that, they are fun. And after all, isn't that what a game should be.