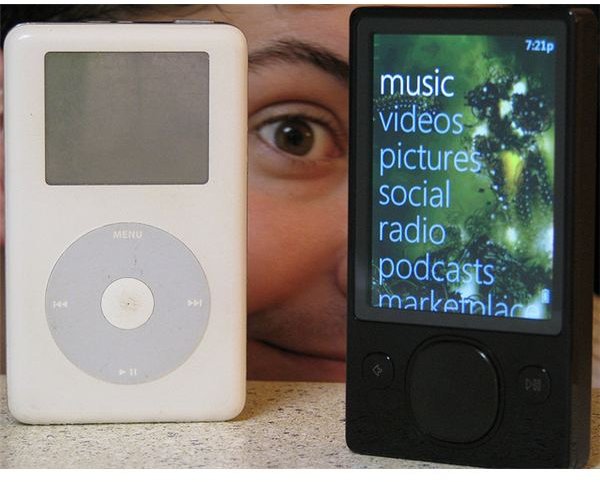 Zune vs. iPod
When we come to think of this Zune vs iPod mania, we never miss the point that iPod has been the single biggest product to
revolutionize private music industry. That thought alone might give iPod an edge. No one will forget the way iPod left the Sony Walkman series far behind. With its sleek and smooth appearance, iPod started to gain popularity fast. Its market share increased tremendously, and it slowly earned a place in everyone's heart. No other products seemed to stand out in front of the iPod until the arrival of Zune by Microsoft. Those who were loyal to iPod never even thought to try the Zune. However, with the features Zune has, it started to impress people and soon it managed to stand against the iPod. Let's compare the different aspects of both media players.
Size and Weight
Zune vs. iPod - which is the best? When we're talking about size, they are both pretty much the same. The Zune is slightly larger by a few millimetres. The iPod is a little heavier with its 4.9 ounces, while the Zune weight is at 4.5 ounces. The Zune has a rust metal back while the iPod's back is a fingerprint and scratch magnet. Both of these two factors usually make no difference and hence don't act as a deal breaker.
While we evaluate Zune vs iPod facts the screen size is the first thing we notice. Zune has a 3.2-inch screen, whereas the iPod comes with a 2.5-inch screen, which means Zune offers a 20% larger screen. The extra size sometimes makes Zune look a little pixilated, however. While Zune can go into landscape mode, iPod just offers the standard video mode.
Color
We know that Apple has always been the strongest contender when it comes to MP3's, and it certainly takes the lead when it comes to color options. The iPod comes in a variety of colors to choose from, including white, black, purple, orange, blue and others. The Zune website, on the other hand, show that their products come in red, black, pink and blue. The drawback, however, is that your color choices appear to be limited by the model you choose.
Price and Capacity
When it comes to the price and capacity, there isn't much difference. One can get iPod classic for around $249, while Zune ranges from $209 to $299, which depends on the site you select to buy from.
When it comes to storage, Ipod is clearly the winner, with their ever-growing storage capacity offering a 160 GB capacity. Zune on the other hand, has never offered a bigger storage capacity, keeping it steady at 120 GB.
Operating System Compatibility
When it comes to compatibility, iPod works on both Mac and PC. While the Zune is only compatible for PC users, something Zune is not likely to change anytime soon. Giving it a restriction on Mac users. In Zune, one can customize its background, which isn't possible in iPod.
Except for having their own DRM files both iPod and Zune support most of the audio and video formats.
User-Friendliness
When it comes to Zune vs. iPod, both have nice interfaces, and are both easy to use. Probably the only downside with the Zune is that it does not have a physical volume button, which can be found inside the interface.
Most iPods are operated by an iPod click wheel and most Zune devices include capacitative multi-touch screen which is an "in" thing for the modern society today. Most people fancy the idea of being identified as having a touch screen device.
Extra Features
When you look at what extras you get with the units, you will find Zune to be better at. You won't find wireless functions at all in iPod, whereas Zune offers umpteen. For an instance, one can do Zune to Zune wireless transfer of music and synchronize wirelessly to a PC. Zune might not have the wireless functionality, it has WiFi access to download music to the Zune anywhere, and FM tuner tagging to songs to purchase later and many more options which are available in Zune, but not in iPod. However, most iPod add extra features that other music players do not have such as sound recorders, wired remote controls and audio visual cables for TV connections.
The Zune market place offers music videos, podcasts, movies, TV shows and music. The Zune social is integrated with Xbox live allowing users to manage friends, send messages and compare music. This is convenient for most users. Apple's iTune software can be used to transfer music to the devices from computers using certain versions of Apple Macintosh and Microsoft windows operating systems and may also transfer photos, videos, games, contact information, e-mail, settings, Web bookmarks and calendars to iPod models supporting those features. Hence, most iTune features are not in most iPod models.
When Zune vs iPod is the object of our scrutiny, it seems that Zune enjoys more dominance over the iPod when it comes to the number of features. For Mac users, Zune has nothing to offer regardless of its feature dominance, since it doesn't work on Mac. Therefore, Mac users are left with no choice but to stick to the iPod. iPod's larger capacity could be less attractive, since not every user needs that much capacity unless extremely large music collections are to be stored.
As the bottom line, we can say that if you incline for features, Zune should be your choice, and for those Mac users, there isn't another option but iPod. Having said so, it would a wise idea to go to the store and try each of them personally before you make a final decision.
References and Images
References
Images