Windows 7 Media Center Review: Is This Free Program Worth Using?
What is Windows Media Center?
Windows Media Center is not new to Windows 7. Windows Vista Home Premium and Vista Ultimate both included Windows Media Center as well. In fact, users can install Windows Media Center on Windows XP computers if they want to. However, since many companies and businesses put off upgrading to Windows Vista, Windows 7 offers the first look at this new software inclusion for many users.
Windows Media Center is the evolution of multimedia capabilities on Windows systems. It also brings the ability for Windows users to watch online television, and through its various extensions can offer even more specialized functionality to fit the needs of different kinds of users. Whether you use your computer extensively to view movies and listen to music, or if you only use those features occasionally, Windows Media Center has something for you.
Interface (3 out of 5)
Windows Media Center looks pretty. By default, WMC runs in full-screen mode without the usual menus and toolbars of everyday computer programs like Microsoft Office 2010, web browser, and even Windows Media Player. The high-contrast white text on blue background is one of many features that can be customized in Windows Media Center.
The big easy to read text and graphics are designed to be usable on both computer monitors and on television sets. For the same reason, navigation is limited to vertical and horizontal scrolling, like what is available from standard television or home theater remote controls.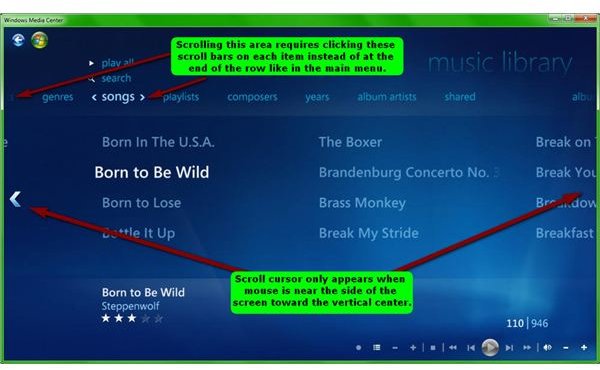 Unfortunately, this dual-purpose interface can be confusing at times. For example, scrolling through songs or TV channels requires hovering the mouse near the left or right edge of the screen, somewhere close to the vertical middle, rather than just moving the mouse all the way to the edge and waiting for the screen to scroll as happens with most computer programs. Although, when one considers how television, cable, satellite or DVD menus function, it is easy to understand how the interface works.
While the need for a usable interface for someone using their computer as a home multimedia server while using a remote control on the couch excuses some of the design awkwardness, other interface choices can't be given the same benefit of the doubt. Why the scroll icons only appear when the mouse is near, is one odd and confusing design choice.
Even more confusing is that scrolling through one's song list requires using the left or right screen edges to make the scrolling button appear, but to scroll through the classification options at the top, one uses scroll bars that are attached to each item rather than at the edges. Likewise, the Internet TV screen offers a big preview image in one row and two rows of images for browsing below. However, in order to scroll the lower rolls, one must first click on something – anything – in order to change the focus to that row before it will offer a scroll bar. One wonders why they can't scroll through the "Fall Frenzy" or other special section without first choosing CSI:NY just to get the scroll icon to appear.
Ease Of Use (2 out of 5)
Unfortunately, Windows Media Center is one of those software programs that requires you to figure out its quirks before you can use it. One of the major difficulties is that Microsoft has built WMC for what IT CAN BE, and not for what it is. Furthermore, the company has made no effort to explain the current limitations of Windows Media Center within the program itself.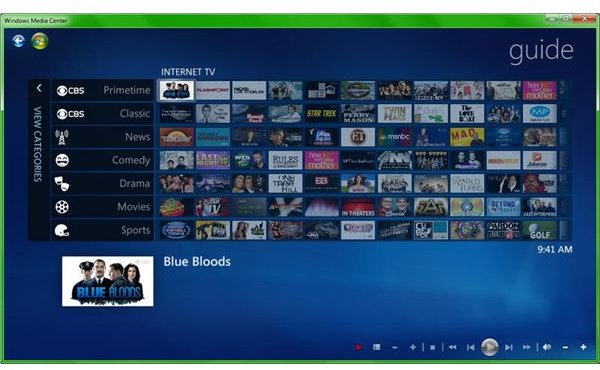 For example, a user excited by the prospect of Internet TV will undoubtedly click on the Internet TV selection. To find their favorite shows, they will click on Guide. Once there, they will see a listing that shows "CBS Primetime" and "CBS Classic" followed by selections for News, Comedy, Drama, Movies, and Sports. It isn't much of a stretch to assume that the average home user might try scrolling to find ABC or NBC on the guide. However, no matter what they click, and no matter how they scroll, they won't find either.
It is not Microsoft's fault that neither ABC nor NBC shows up. They have not allowed the company to show their programming through WMC. But, if CBS is there, you KNOW that users will go looking for the other channels. A simple acknowledgment of some sort either via an empty icon or even a small note at the bottom of the screen – perhaps with a checkbox that allows it to be turned off once read – would go a long way toward saving some users the kind of frustration that might make them just give up and stop using WMC before they have even seen what it can do.
"I can't figure it out," is what one user told me. Turns out they were trying to find Lost in the guide. It's on ABC, so it isn't that they could not figure out Windows Media Center; they just didn't know that it wasn't there.
Actually, the Guide is a major weak spot in WMC, primarily because it has been setup to do SOMETHING even if what it does makes no sense. Click the "News" category, for example, and you won't get a screen full of news shows, you'll get the regular Internet TV screen with ALL shows, likely because there are not enough News shows yet to warrant a full screen of them. Still, Microsoft would be better off showing the same limited number of news shows displayed in the guide rather than showing something that doesn't make sense.
Features (5 out of 5)
The unfortunate curse of Microsoft seems to be that the company is very capable of creating and developing software that can do almost anything you want it to do, but that it can't do so in a way that is intuitive and easy to understand for those who aren't interested in reading webpages devoted to the product and digging deep into the Help files. WMC fall hard into this category of software.
For those willing to figure Windows 7 Media Center out, it does tons of things and it does many of them well.
While the guide is a mess and many clicks lead to screens that makes one scratch their head, WMC also provides an easy, clear, built-in, way to watch online television on your computer without opening a web browser or logging onto yet another service or website. While the amount of programming currently available is underwhelming to non-techies, there is plenty of potential for both discovering new shows, and for other networks and broadcasters to get on board.
The list of things that Windows Media Center can do is impressive. WMC handles music, pictures, videos, and even Internet TV. Installing some WMC extenders also brings users the ability to watch streaming movies from Netflix (Netflix subscription required), or from popular online television repository Hulu.
For computers with TV tuner installed, Windows Media Center can tune into live over-the-air TV or even your cable TV signal if properly configured. Computers with a dual-tuner device installed can watch live TV on one channel while recording a different channel, or WMC can be set to record two different channels at the same time.
WMC can also function as a DVR allowing users to record television shows like they would with their VCR, cable recorder, or TIVO recording device. When properly setup, users can schedule programs to record in WMC and watch them later. For WMC systems on a HomeGroup or other supported network, shows recorded on one PC can be viewed in Windows Media Center on another PC.
Users looking for a way to watch slide shows of their pictures or a montage of their home videos are taken care of as well. The best part is that just by hooking up a PC or laptop to the television set, these slideshows or videos can be watched simply and easily on everything from a TV with wireless surround sound to a giant 65" Sony Bravia LCD flatscreen.
Windows 7 Media Center Review Overall (3 out of 5)
Overall, the clunky nature of the interface and the limited mainstream offerings relegate Windows Media Center in Windows 7 to the "neat" but unnecessary bin of software. As the amount of programming increases, and more users begin taking advantage of specialized plug-ins like those offered by Netflix and others, the popularity and usability of Windows Media Center should increase.
Until then, for savvy computer users looking for a way to get the full multimedia experience on their computers, Windows 7 Media Center is a worthwhile program to figure out and learn how to use. Once you do, there are a lot of fun and powerful media experiences waiting for you inside.