A Review of Movie Label: Organize Your DVD and Blu-Ray Collection With Ease
Movie Label is a 12MB download from the developer's website. The developer offers a 14-day free trial for the program to help you make a buying decision, but this review will also tell you a lot of what you need to know.
Should you decide to purchase the software, you can get the standard edition for $49.95 and the pro edition for $69.95. Movie Label 2011, (also known as version 6 of the program), works with Windows 7, Vista, XP and 2000.
Ease of Use (4 out of 5)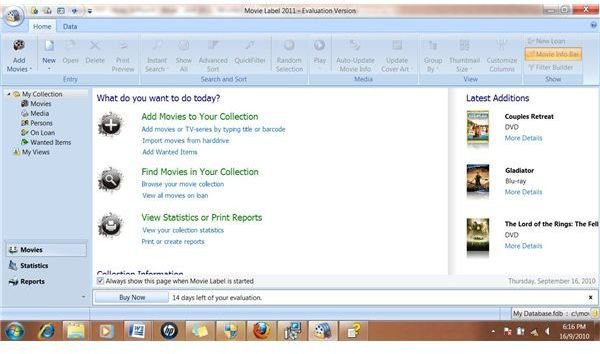 Movie Label opens with an blue and white interface that is pleasing to the eye. If you're familiar with Microsoft Office 2007 programs, you'll have no problem figuring out how to it works. There are only two main menu items you work with – Home and Data. Click on them and you'll have all the main functions of the program at your fingertips.
The welcome screen when you launch the program is user-friendly. In the middle panel of the window you are asked what you want to do. You can choose between adding movies to your collection, finding movies in your collection, viewing statistics and printing reports.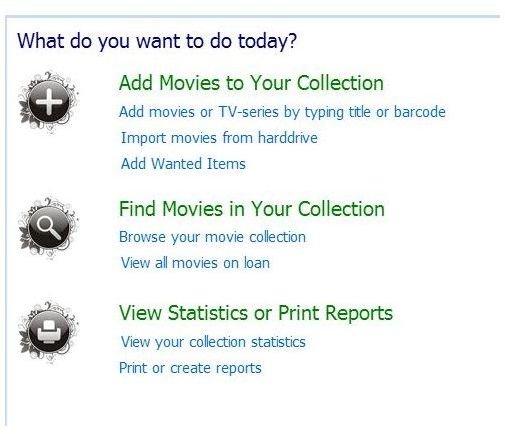 You can also click on the Add Movies icon on the top far left of the interface to get started if you're using the program for the first time. That's all you have to do to get started. If you've used any kind of database program before, you will find the whole experience quite familiar.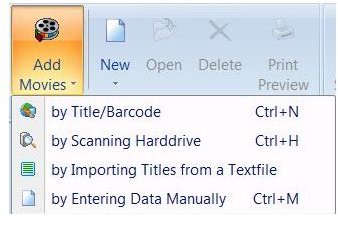 You can then add your movies by title or barcode input, scanning the hard drive, importing from a text file or even entering your DVD data manually if you've time to spare.
Features (4 out of 5)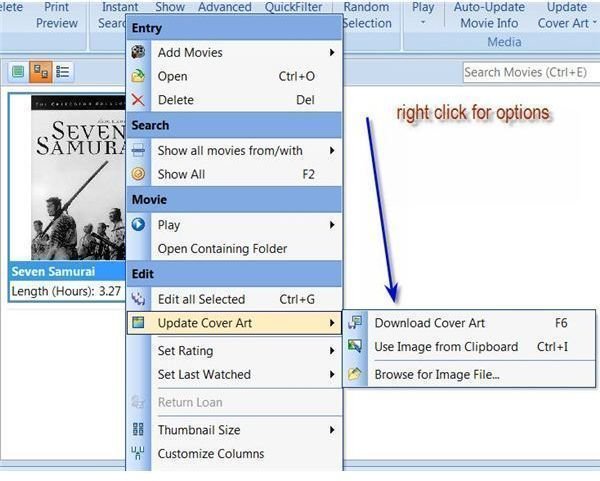 Although you have the option, you hardly need to enter any information on your DVD collection manually. Cover art, links to trailers, titles, taglines, plot, cast, crew and even trivia can be downloaded from the Internet and stored on your movie collection database. If you're cataloging information on your TV series collection, you have access to the plot and other details for each episode.
Apart from printing reports on your collection, you can also export your database to HTML, XML, PDF and Excel, files. This is useful if you want to share the information on your movie collection with others.
If you're an iPhone, iPod or iPad owner, you can export to Netwalk Movies, and have access to your movie collection while on the go. This is especially useful if you're out on a DVD shopping spree out of town and don't want to buy titles you already own.
Support/Help (4 out of 5)
If you have difficulty in using the program, help comes in the form of a user guide - a PDF file you can download from the developer's website. There's also an FAQ page which deals with known problems and has solutions for them. If you've bought the pro edition, then there's help for setting up your database on a remote server.
In addition, there's a blog which helps you keep with the latest developments related to Movie Label. You may want to go to the Tips and Tricks category to learn shortcuts on using the program.
Even with the extensive help available, video tutorials would be a great help to those who are working with a DVD collection program for the first time.
Value for Money (3 out of 5)
On the face of it, Movie Label does what even a free program like DVD Profiler does. It may seem money thrown down the drain purchasing a program which does nothing more than compiling your DVD collection. After all, you can get video editing programs for $49.95 nowadays. But then, if you're a person who wants a good visual feel to your DVD compilation software, then Movie Label should be an automatic choice. With its cool appearance and calming feel it is sure to entice users for a long, long time.