Coollector Review: Why You Should Download This Free Software
Usability (4 out of 5)
Coollector is a comprehensive database of film information. It features information on nearly 70,000 movies and series, which can be searched using a variety of methods. This free database may be the movie lover's dream, and Coollector can manage nearly any type of movie media, including Blu-ray, VHS and DVD.
Coollector works with Windows XP, Vista and 7, and users will have to download it to their computer to use the software. Once the software is downloaded, the interface is fairly simple to use, and users can add movies and series that they currently own.
Database Features (5 out of 5)
One of the interesting features is the ability to obtain rati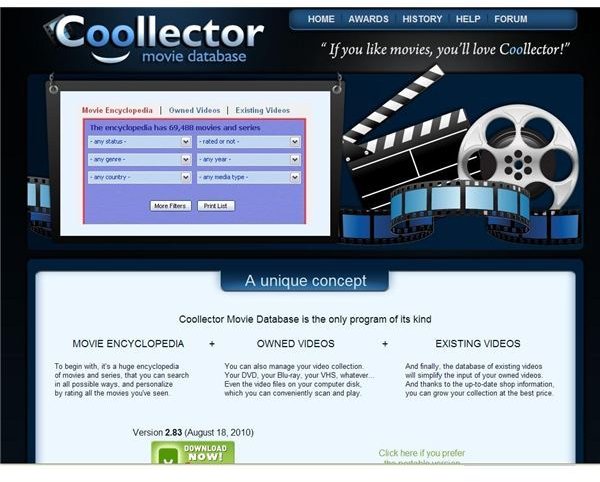 ngs from the Internet Movie Database (IMDb) of the movies that you currently own or would like to see. Once this list is created, your list will be set up based on those ratings, with the highest rated movies being listed first.
Movies that you currently own will be listed with an underline, and you can add your own ratings with smiley faces, which range from smiles for your favorites to straight faces for OK movies to frowns for bad movies. This list will also indicate when the movie was made and how much that movie is currently selling for. The price list is a great way to find bargains so that you can quickly snatch up movies that you would like to own.
Another great feature is the ability to keep track of to whom you loaned your movies and when you did this. This will help you to remember to get your movies back when you want to watch them.
Searching the Encyclopedia (5 out of 5)
The encyclopedia can be searched by genre, status, year, media type, country and rating. You can then scan through the movies based on ratings. This is useful if you are interested in a particular genre of film like foreign and want to find something that you haven't seen. It's also a fun way to look up movies that came out in a particular year.
The standout feature of the database is the ability to look up films via actor or director. So, if you like Leonardo DiCaprio, you can find all the movies associated with this actor, the ratings and how much his films cost. This will help you find other films that you would like to see by this actor. Then, you can print out the list and take it with you to the video store.
Settings Usability (4 out of 5)
The settings for this software can also be easily changed. You can change the settings so that they show the best prices that can be found online for the movies that you own or would like to see. You can set up the system so that it will alert you about changes in prices for movies, and this can be set up on a daily or weekly basis.
Is It Worth It? (4 out of 5)
Overall, this is a great system, especially for someone who has a large database or who is interested in collection new movies or series. And, you can't beat the price – free!