Overview
My DVDs is a movie database application developed by a company with the same name, and is solely developed in order for you to keep your DVD, Blu-Ray or TV episodes collection organized. Although similar applications are abound on the internet, either free to download or for a purchase price, you may perhaps find features which aren't otherwise available together with a dedicated customer support.
The program does everything you would expect it to do for such purposes, such as automatically add titles by download, print, import or export your collection and also allow you to customize the interface by downloadable skins. You can also keep track of borrowed DVDs, (if you lend your titles to friend or family), and the application will record the title as 'out of collection'.
Features (3 out of 5)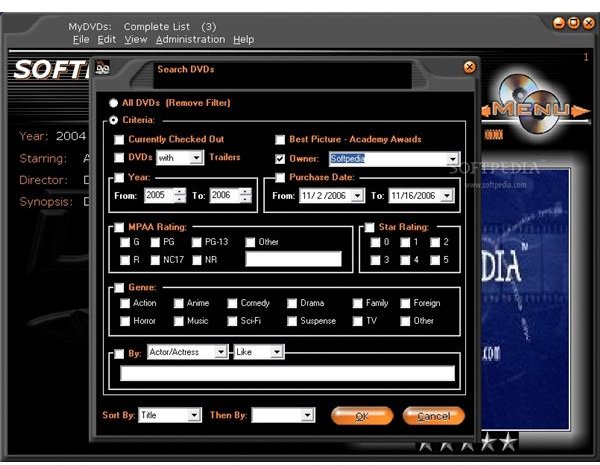 As you launch the program you will undoubtedly notice the slick interface - glossy black with a stylized menu button on the right-hand side and the usual drop-down menus at the top. The program displays the number of DVDs in your collection at the top, as soon as you launch it.
The program stores all the info which you would expect (such as title, year, actor etc…) by downloading the information from the internet via the IMDB, and you can export your collection to HTML for a website, plain text or other formats if you wish. My DVDs also has slideshow features which allow to view your entire collection at the click of a button from the comfort of your seat.
Ease of Use (4 out of 5)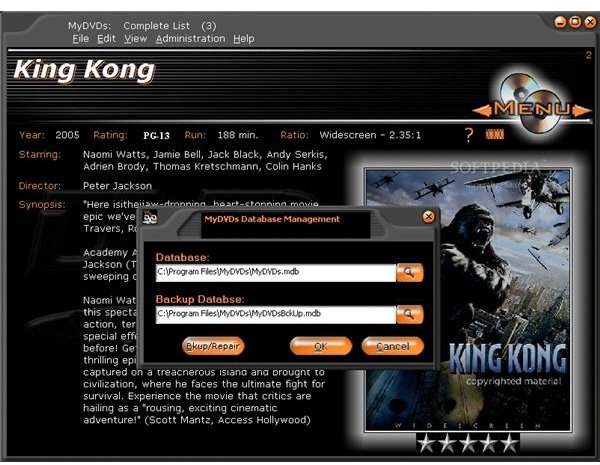 The program doesn't have the extensive amount of features perhaps present on other databases, (like the availability to view movies on your hard-drive for instance), but it is quite easy and intuitive to use. You do not have to do very much apart from entering a title, and the program will instantly search for it, along with relevant information.
You can either use the File menu or a keyboard shortcut to input your movies, (CTRL + N.) In the file menu it is simply a case of selecting 'New DVD' and adding your media into a collection - all very easy to do. You can then hit the Search button and wait for info to be loaded, or alternatively enter a Library ID, if you have one, and it will instantly find your movie.
The Search function has all you need, and you can enter many different criteria like the ability to search for a particular actor or director. All in all, simple features in one compact program which will serve your purpose.
There has, however, been some problems reported with the download function in version 1.64; the program will have problems downloading content from the internet seemingly unable to find the information. Contact the developer in advance to inquire about this possible glitch.
Verdict (4 out of 5)
A clean interface, a fair price of $20, and dedicated customer support make this a nice tool if you wish to organize your movie collection. Although stripped of other features (such as a built-in player, exporting to PDA or the possibility of downloading from foreign movie-sites), My DVDs certainly has the basics which you need for solidly built database software, but you may also want to consider other options like All My Movies.