All My Movies: Movie Database Software Review
All My Movies by Bolide Software
All My Movies is a movie database application developed by Bolide Software, and like many other similar programs it allows you to easily organize your DVD or Blu-ray collection.
It has the features which you would expect, such as being able to automatically add titles by downloading from popular movie database websites, choosing a layout which suits your purpose, printing your movie list and much more. Continue reading if you wish to know in detail what All My Movies has to offer, to finally make your mind up for eventual purchase.
You might also be interested in reading the following articles regarding other movie database software:
Movie Collector: Database Software Review
Keeping Track of Your Movie Collection with CeeMedia
The Best Movie Collection Freeware
Features (4 out of 5)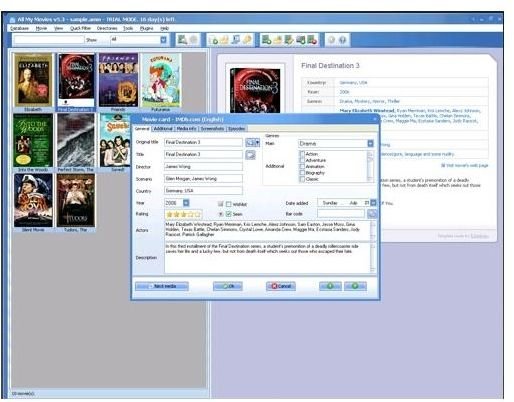 All My Movies features a clean intuitive interface, with the usual drop-down menus at the top for you to create a new database, add a new movie or tinker with various options. You can also search quickly for a movie of your choice or alternatively choose the quick-icons for whatever you are working on at the moment.
For adding your movie, the database queries a large number of websites (not just including the more popular IMDb or Amazon) in a variety of languages; for instance the RMDB, Kinopolsk or cinebel sites are available which let you search for foreign titles. This is particularly useful if you have a collection of foreign movies, or if you are an art-house cinema buff, which would sometimes not be displayed in detail in the most popular sites.
Another welcome feature is the ability to use the program as a playlister. For instance, you can pick the movies you want to play, stored on your hard drive, and play them in succession if you so wish.
Ease of Use (4 out of 5)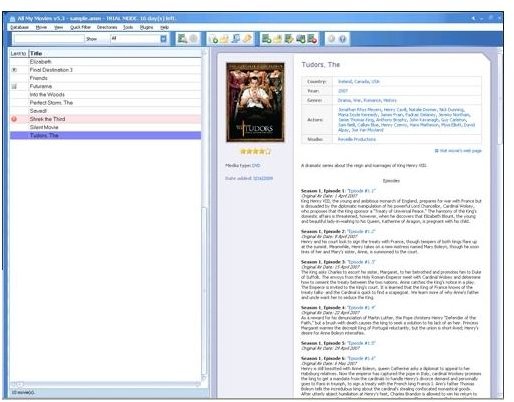 Due to the many features available, using All My Movies to its full capabilities will take a bit of time and patience on your part. However, adding movies and creating a new database is fairly simple and with the automated search/upload functions the program will do most of the work for you.
Importing a movie list from text or XML is all done at the click of a button, and exporting is the same way. Choosing your layout with various options isn't difficult and you can export your list to the usual formats (HTML, PDF, Excel etc…) in a matter of seconds.
Installation didn't prove to be particularly problematic either, although remember that you do need the internet for updates and for downloading the essential movie info.
Verdict (4 out of 5)
At the price of $45.95, you may think twice about buying All My Movies, since there are many free database software applications available which will do an equally good job and keep your collection in order. However, the support offered for these programs will likely not be as good, and perhaps some features will be missing (such as exporting to PDA for instance.)
In short, if you require a feature-rich easy to use movie database software and like the features, look and feel of All My Movies then you will not be disappointed after purchase.
You might also be interested in checking out Tips on Creating a DVD Collection Database - Managing Your Movie Collection.