Review of Movie Collector: Organize Your DVD Collection at a Price
Movie Collector by Collectorz.com
Movie Collector, produced by Collectorz.com, is database software specifically designed to help you sort out your movie collection without much hassle. There are many other similar programs out there of course but perhaps without the features that this program offers. Whether you need these features or not is entirely up for debate, as we will discover in the course of this review.
You can sort out your collection easily, without even typing very much as the needed info will be downloaded instantly, along with choosing layouts and other various options. Read onwards to help you decide whether to buy Movie Collector or perhaps, give it a miss.
You might also be interested in reading The Best Movie Collection Freeware; this article lists the top 10 movie collection software that is completely free.
Features (5 out of 5)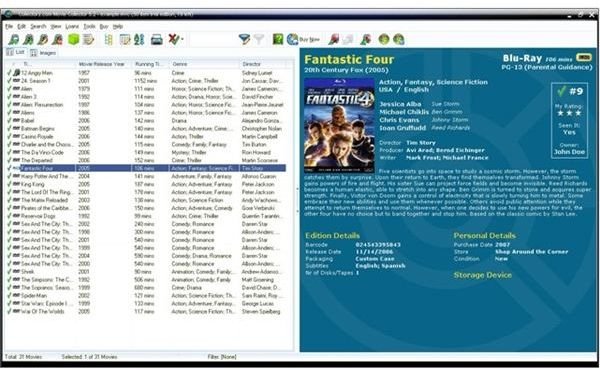 As with most modern movie databases, Movie Collector obtains all movie info (i.e. directors, actors, synopsis and much more) from IMDb, Amazon or MovieCollector.net and the brief download contains almost anything you would want or need to add to your collection. You can also add details manually if you wish; in the cases where there are two movies with the same name or the information is outdated, adding things manually is preferable.
You have the ability to search through your movies in a number of ways, such as a quick search by simply typing a word, or searching by directors, actors or other criteria. You can also organize your movie list in this manner, for instance if you choose, you can group movies by director or by genre.
There is the possibility to export your movies into different outputs, such as just a simple text output, HTML if you wish to add the list to your webpage for example or exporting as XML. The layout is fully customizable, whether you want just one row with simple information (i.e. movie title, director) or a more complex layout allowing for more details.
Learning Curve (2 out of 5)
Seeing as Movie Collector offers a large amount of options, it can take a while to learn about each and every function available. Some of the features, such as exporting your list to pocket PC or PDA, are not really needed either and it is fair to say that most users will just forget about them.
Apart from some needless additions, the basic features and layout of Movie Collector are intuitive, featuring icons at the top for creating a new list, adding a title and downloading new content. Printing is pretty easy to set up too after you have tweaked your layout.
Lastly, Movie Collector does not feature an integrated player (for instance like Movienizer) to play movies stored on your hard disk; this would have been a welcome addition when just browsing through your videos and choosing to watch something.
The Verdict (3 out of 5)
Although Movie Collector has everything you want to organize your collection, the price tag of $49.95 really is steep for a few extra unneeded features. In all honesty, you are probably better off downloading one of the many free organizers, some even with built-in players, which are equally as good for sorting out your DVD's. However, if you prefer dedicated support and constant updates, Movie Collector might be the software you are looking for.