Scott's Liquid Gold Clean Screen Cleans Up: Review of Scott's Liquid Gold Clean Screen
Isn't Cleaning Fun?
Cleaning by definition is not sexy. Or fun. But the importance of cleaning can't be denied - especially when you're talking about LCD or plasma flat panel television screens. Even in a perfect world - and we don't live in one - the very electronics powering the screen cause debris and dust to gravitate towards it. Add the shmutz and junk in the air that filters into the home and it's a wonder you can see anything on the screen at all. Yet most people never bother to clean their screens; citing antiquated reasoning from not "wanting to damage the screen" to "not having the proper ingredients to use."
Of course anyone who has even sprayed Windex cleaner on a CRT tube should have found out the hard way by now what doesn't cut it - but in general it's not just that the average consumer doesn't "get it," but more that the needed tools aren't readily available.
What is Scott's Liquid Gold Clean Screen All About?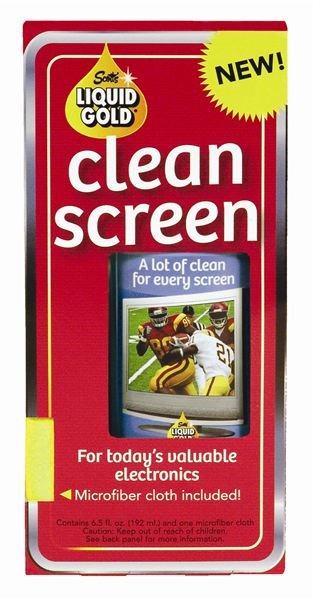 Okay, I admit I'm a bit psyched to try out Scott's Liquid Gold Clean Screen. Let's start with the obvious first; the spray bottle isn't designed for being sprayed on a screen but on the included microfiber cloth that it comes with. The cloth is what is used to wipe off the screen.
That explains in general what you do - but let's get back to being able to know what to do in the first place. The various cleaning agents that I've run across usually come equipped with a bottle of cleaner and a cloth of some type, but if I didn't know to go to an electronics store or search for them online, I probably wouldn't have found them to use with my home theater. That's a far cry from Liquid Gold's approach of selling their screen cleaner in places like drugstores and other places where consumers shop for "daily life" stuff. By doing this the average consumer is more likely to see it. Granted that the 6.5 ounce bottle won't be cleaning too many 60+ inch screens, but the small size of the bottle guarantees a more approachable product for people to get their hands on. Of course the under-$10 price tag is very appealing in today's economy - being less than many of the competitors products which have been out for some time - and of course the Scott's Liquid Gold "brand" for cleaning rates pretty high among consumers.
Let's Get Clean (5 out of 5)
So let's get to the nitty gritty - or to be more precise getting rid of the nitty gritty. The purpose of a cleaning product when used on a TV screen is to remove the detriment that is lying on it. I can't complain about using Clean Screen in general; it certainly works on my Apple monitor screens and I even took a swipe at my glasses to find them made squeaky clean (just to note - you always want to blow the dust off of your glasses as otherwise you're "grinding" the dirt into them when they're being wiped).
I'm going to clean my 60-inch rear projection HDTV in the bedroom, but not before I blow it off with compressed air to remove whatever I can of the hair resulting from the activities of my two dogs when they decide playing in front of the TV with each other is the cat's meow (always wanted to make that bad pun). I anticipate that the bottle will be sufficient to cover the entire screen, but am using my own larger microfiber cloths. A couple of sprays and I'm off to clean the screen in the same fashion (only bigger) to that of a computer monitor: starting at the top left corner and gently wiping my way over to the right before lifting up the microfiber cloth and going back to the left side again. Of course I am spraying a clean section of the microfiber cloth each time.
Results of the "Screen" Test (5 out of 5)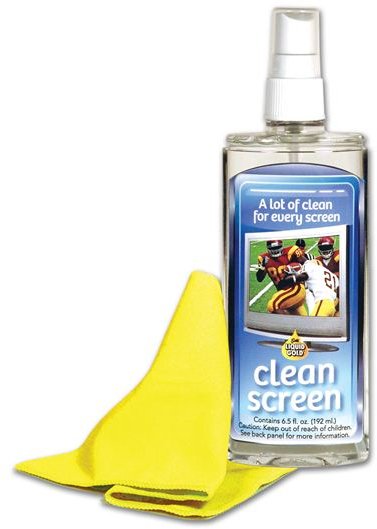 I waited a few minutes for the screen to dry off before turning it on. You'd expect it to look good now - it does - but I needed to confirm just how good by comparing what I am seeing with the small area I've left undone. Now Barbara Goldstein, Director of Corporate Communications for the company says that what makes their formulation different than others comes from extensive in-house testing. " We have our own R and D lab where we put each product we develop through rigorous testing," she says. " We tested a multitude of cloths and a multitude of solutions before we found the best combination of the two. Then we tested it on hundreds of electronic items, old and new."
I'm sure she hadn't intended for that to rhyme, but the sentiment can be appreciated. Especially when the results of using their product can be clearly seen.
Overall Rating (5 out of 5)
Now while I'm certainly not "scientific" enough to judge, the reverse osmosis system the product uses seems to be a good choice: basically the RO removes impurities smaller than the water molecules themselves. This doesn't leave a residue or "film" on the surface that is being cleaned which can occur from a gel or alcohol or ammonia-based product. It's even "greener" to boot. You put that together with the fact that all the company has been doing for the last 50+ years is formulating cleaning products and it's not exactly hard to feel confidence in using Clean Screen. That and the fact that it works, that is.