Shoutcast Review: Answering Your Internet Radio Needs?
Shoutcast
Shoutcast is a free service that allows anyone on the internet to broadcast audio from a PC to anyone listening via the Internet or, in practice, any network based upon the Internet Protocol.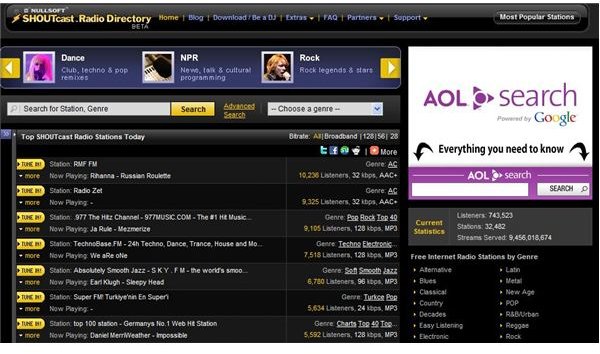 Usability (4 out of 5)
It is based upon MP3 technology, providing wide compatibility with a range of digital music players. To listen to an Internet radio station broadcasting via Shoutcast, listeners can access www.shoutcast.com which provides a wide range of audio feeds which can be sorted by name, genre, or broadcaster type and usefully, audio quality, characterized by bit rate.
The feed can be access by a wide range of software music players. Shoutcast recommend Winamp for Windows or iTunes for the Mac. However, in reality, the MP3 feed is compatible with almost any software music players. It is possible to download a Shoutcast widget which allows you to add a favorite feed to your own web site or social networking page.
Compatibility (5 out of 5)
In addition to the ability to play the Shoutcast feeds accessed from your browser in your PC, you can also access Shoutcast directly from your music player. The preferred Windows platform for Shoutcast, Winamp has an add-on to integrate access to Shoutcast audio streams within the Winamp music player. There is also a Shoutcast add-in for Songbird, the open source music player. Songbird is a multiplatform application providing direct access for Linux users as well as Windows and Mac users. Although there is no native Shoutcast add-in for iTunes, there are a number of apps for the iPhone and iPod.
Range of music available (4 out of 5)
You can only find an internet radio station on Shoutcast if the broadcaster elects to use the Shoutcast platform. You cannot add your own internet radio stations. Fortunately, many stations do elect to use the Shoutcast platform. The site claims 30,000 stations in the Shoutcast directory.
Conclusions
Shoutcast is an internet radio solution with a lot of advantage. It has a good range of stations with a decent proportion offering higher than average bit rates. I find it easiest to use when integrated into a music player, my preferred option being Songbird.