Hitachi P50S602 Plasma TV Review
Audio Quality (5 out of 5)
The Hitachi P50S602 can play MPEG1 files and comes with a 3DYC/3D digital filter. It has an additional SD memory card slot and is Energy Star compliant, which is of course a necessity these days with electricity bills going sky high. The SD slot helps in receiving direct firmware updates. Along with surround sound, the Hitachi P50S602 comes with SAP/MTS stereo support.
Screen Size, Display Resolution, and Other Capabilities (5 out of 5)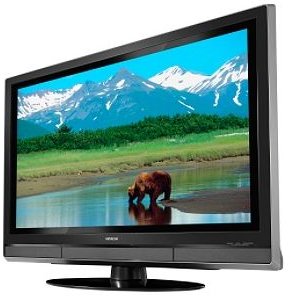 The Hitachi P50S602 makes use of the full HD1080P resolution standard, which means that this superb HDTV conforms to the 1920 x 1080 pixel resolution format. It comes with a 50-inch wide flat panel type screen.
Looking at its display capabilities, it supports 1080p, 1080i, 720p (HDTV), 480i (SDTV), and 480p (EDTV) broadcast formats. It also comes with a built-in ATSC, NTSC, QAM supported tuner and has a standard 4:3 aspect ratio.
As a result, the built-in tuner serves as a HD-capable antenna, capable of receiving over-the-air high-definition broadcasts. However, you'll need an additional set-top for satellite programming or high-definition cable.
Advanced Features and Dimensions (4 out of 5)
As far as the dimensions are concerned, the P50S602 has a width of 48.19 inches, height of 31.63 inches, and depth of 4.13 inches, and it produces amazingly sharp details. It also has V-chip parental control that allows parents to keep their children away from viewing unwanted channels. And, of course, it has a master sleep timer, similar to most other TV sets.
The Hitachi P50S602 also makes use of the exclusive film processing technology, which helps in creating new frames so as to perfectly match the picture motion in movies, thereby reducing judder and blurred frames in film-converted-to-video.
Connectivity with Other Devices (5 out of 5)
It is a child's play to connect other high definition television sources, Blu-ray disc equipment, next-generation gaming consoles, and any other device. All of these can be connected at once thanks to P50S602's two wideband component and four HDMI inputs. This ensures that the HDTV doesn't just deliver high performance alone but also that it works perfectly in tandem with other devices, allowing you to experience the ultimate gaming or video experience.
Overall Performance (5 out of 5)
Hitachi's PictureMaster HD VI technology provides fine tuning and four pre-set color temperatures allow the users to the control picture quality of the Hitachi P50S602 just the way they want. Another stunning feature of the P50S602 is the New Cinema48™ technology that works exclusively with 24p HDMI inputs. Users get the same visual timing impression as observed in theaters at 48Hz with the help of doubled frames.
What's more, P50S602 maps HDTV colors with its awesome plasma panel and x.v. Color™ Performance, thereby reproducing the colors at its level best, resulting in unmatched color accuracy that complement the HDTV signals.
As far as pricing goes, the Hitachi's masterpiece, the P50S602, is available in the price range of $1,850 to $2,650. It has very sharp details, and it is indeed one of the masterpiece HDTVs in the market. With so much on the offer, the Hitachi P50S602 is definitely worth your money, unless you're brand fanatic and restrain yourself from buying anything else except Sony or another particular brand.