TVersity Media Sharing Review - Free Universal Media Sharing Solution
TVersity - Easy to Setup, Simple to Use
Although impressive when working well, media sharing with Windows Media Player 11 is unreliable. It can prove very tricky to set it up to work with an Xbox 360, and other non-Microsoft hardware can be just as tricky.
A very popular alternative is TVersity. Available from TVersity.com, this free application manages your media sharing from your PC, allowing you to view video, listen to audio and check photos, podcasts, standard RSS feeds and more from the comfort of your living room. Configurable with games consoles, some set-top boxes, mobile devices and a range of home theater devices, TVersity is easy to setup, simple to use, and allows you to view all popular video formats.
TVersity also comes as a paid "Pro" version that adds premium online content into the mix - US users can access video from Hulu while UK users can view BBC iPlayer content. ESPN, MTV, E Online, Comedy Central, Marvel, VH1 and many others are also available, with more planned.
Minimum System Requirements
TVersity comes in two flavours, Free and Pro. The free version has a low set of minimum requirements that should suit pretty much any PC still in use today - however as described above the Pro version provides access to premium content for which a higher PC spec and fast internet connection is required.
The basic system requirements are:
Pentium III 700 MHz or better
256 MB of memory or more
100 MB of disk space
Windows XP / 2000 / 2003 / Vista (no information as yet on Windows 7)
DirectX 9.0 or higher
Windows Media Player 9.0 or higher
Audio enabled on the computer running the software
Recommended hardware meanwhile is as above with the following changes:
Pentium 4 2.8 GHz with support for Hyper Threading
2GB of memory
4GB free hard disk space
Note also that for transcoding to WMV (Windows Media Video format for viewing on Xbox 360) Windows Media Player 11 is recommended; the alternative is for WMV encoding to be performed via ffmpeg, which can cause some lag.
Why Windows Media Player? This might come as a surprise, especially given the trouble the application can cause when trying to use it for media sharing. As it is, Windows Media Player is a useful media transcoding application and as such is a vital tool for getting a wide range of video formats converted and displayed on your TV.
TVersity Screenshots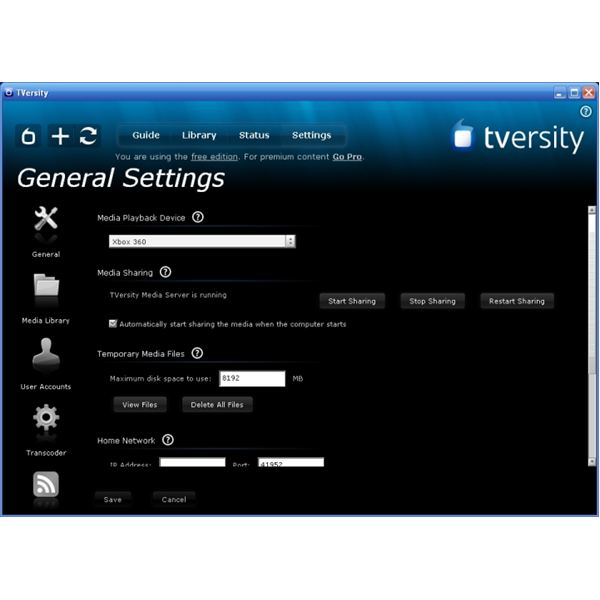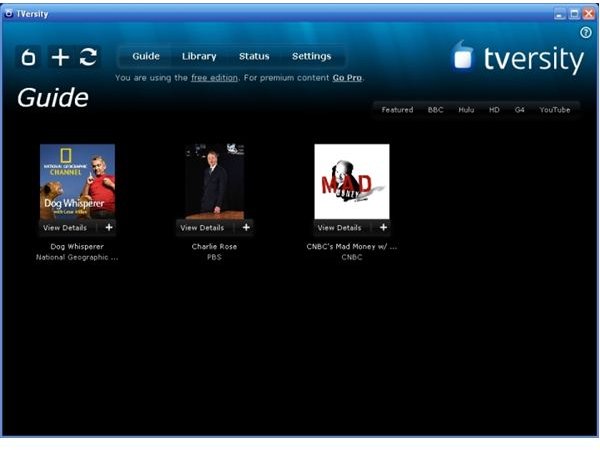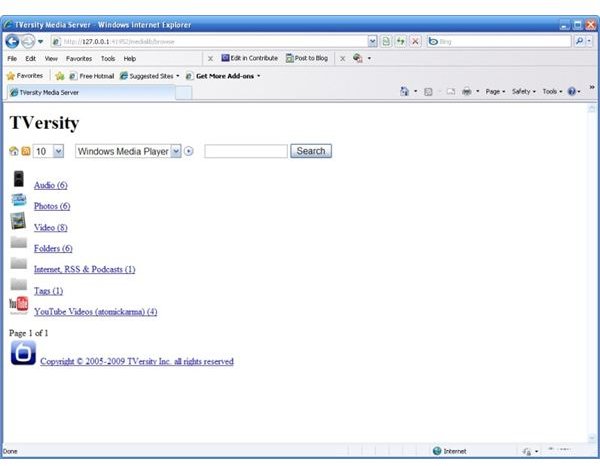 Connect to a Range of Devices
It's a simple task to setup TVersity on your home network - you can literally have media stored on your PC available to view on your TV via console, set-top box or other device in 30 minutes!
TVersity is remarkably flexible, and the developers confirm that it automatically connects across your home network to the following devices:
Xbox 360
Sony Playstation 3
DirecTV HR20
Sony Vaio VGP-MR100U
DLink DSM 320/320R/320RD
DLink DSM 510/520 (firmware 1.02 or higher)
Philips Streamium SL300i/SL400i/MX6000i
Roku Soundbridge M500/M1000/M2000
Philips SLA5500/5520
Omnifi DMS1
Nokia 770 or N800/810 Internet Tablet
A range of other devices can also be connected, however these require specific settings to be applied to the software.
The Ultimate Media Sharing Solution (5 out of 5)
Only the hardware setup and speed of you home network can impact the performance and usability of what is one of the best free software solutions I've come across
After the potential nightmare of setting up media sharing with Windows Media Player, TVersity is an immense breath of fresh air.
Flexible, easy to use and configure and ultimately successful, the only thing that could provide any potential pitfalls is the speed of your host PC. Some video and audio formats may not be supported on your viewing device, requiring your PC to encode the track in a format that your set-top box, games console or dedicated home theater device can play back, and this can require a high-spec PC to do it quickly.
Beyond that one quibble however, TVersity is the ultimate home theater media sharing solution.