Samsung LCD TV Review - Model LN55B650
Flat Panel TV Overview (4 out of 5)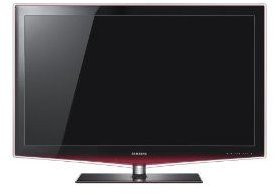 Samsung's LN55B650 55 inch 1080p 120 Hz LCD high definition television is a quality flat screen television. What makes this television especially appealing is that it's right around the $2,000 mark, making it pretty affordable for a television of this size. The dimensions for this flat screen television are 51.6 X 33.1 X 3.1 inches, weighing 64.8 pounds if free-mounted on your wall or 76.5 pounds if you choose to use the stand.
The LN55B650 comes with Samsung's signature Touch of Color design. The TOC design is based on automotive coloring technology and provides just as sleek a look. The red TOC is especially eye-catching and pretty for most people. But, if you've never seen a TOC flat screen television, it may be worth running to a showroom. The design type isn't for everyone.
Features (5 out of 5)
As far as features go, this LCD flat screen TV has a lot of them. It comes with 1080p high definition for sharper pictures and more real color. It also has an extremely high dynamic contrast ratio at 100,000:1. This LCD TV also has a pretty good response time at 4ms, which will diminish any blurring and fuzziness that may occur if you're watching a fast-paced television program. The Auto Motion Plus with 120 Hz refresh rate will also help with this.
This LCD television has four HDMI 1.3 ports, which means that you can hook up a bunch of devices to the TV. You can use it as a computer monitor or even hook up your digital camcorder and watch your home movies. You can even plug in your MP3 player and listen to your favorite songs with this flat screen television.
Samsung has provided users with extra content, which can be accessed via the Content Library or online via a system provided by Yahoo. You can set the television to come on and shut off at certain times via the timer function.
Major Drawbacks (3 out of 5)
The major drawback to this television is the soap opera effect. This makes you feel like you're moving along with camera. It can be very unnerving. Overall, however, the picture pops and looks quite natural.
Another issue is the remote control. It's very, very complicated. You won't have out-of-the-box quickness when trying to figure out this device. The menus take time to get used to, and there are plenty of them. Plus, it's slow to respond when buttons are pushed.
Finally, the surround sound system is average for a television this size, which is a little disappointing. If you're looking for a real home theater system feel, you won't be able to just get that from this television alone.
Quality for the Price (4 out of 5)
For the price, especially the many deals that can be found online, the television is definitely worth the $2,500 price tag. This flat screen television appears in many buying guides and resources because the picture is really great, and the features are amazing. Despite a couple of drawbacks, this LCD television is a good choice.