Samsung LN 46B750 LCD TV Review
Features (5 out of 5)
The Samsung LN46B750 46-inch 1080p 240HZ LCD HD TV ($2,000) is smaller than many other flat screen televisions in this price range, but it also has a lot of features that are not usually more at home on the plasma sets and seldom offered on a LCD flat panel television.
Samsung's flat screen television has four HDMI ports, a component port, one PC port, and two composite video inputs, which is more than you usually find on any TV and more than most people will use. With the four HDMI ports, you can attach your gaming equipment, digital camera, digital camcorder or even your computer. So, forget the flat panel monitor and use your flat panel television as your monitor instead! It could definitely make for some fun LCD television viewing.
"Auto Motion Plus" 240 HZ is quite a plus. It helps reduce the blur that you may find when watching fast-paced television like sports. The dynamic ratio is quite high (150,000:1), making everything that you watch seem vivid and vibrant.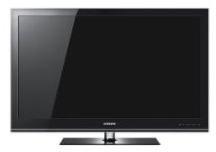 It's also really fast with 2ms response time, which also helps with blurring.
Another feature is the Wide Color Enhancer 3, which as the name implies enhances color. The television is also Energy Star certified, meaning that it will draw less power and help reduce your electricity bill.
Touch of Color Design (4 out of 5)
Samsung's "Touch of Color" charcoal grey design can be seen on this televion. Many people really like the TOC, especially coming in grey because you won't see as much dust. But, you may want to check it out before you buy it. There have been some complaints that it's distracting.
Possible LCD Television Issues (3 out of 5)
One issue that many of the newer televisions have been having is the "soap opera" effect, where you feel like you're moving along with the camera. It can be quite distracting, but usually adjusting your TV to the Clear setting will help.
Another issue with this model is that its screen is more reflective than many other LCD televisions, which means that you won't be able to put it in a bright room. And, finally, the remote control is long so you have to keep moving your hand up and down it. And, the buttons are hard to push.
Overall Quality for the Money (4 out of 5)
This flat panel television definitely comes packed with a lot of features. But, it's also a little pricier than many other 46-inch LCD TVs. Yet, there have been a lot of online sales for this television so you may want to check out places like Amazon.com because you'll probably be able to put the television for a lot less than the regular $2,000 price tag. Either way, it's a beautiful television, and the picture is just amazing on it.
For more plasma TV reviews, LCD TV reviews or additional buying tips and resources on other flat screen televisions and plasma televisions, check out Bright Hub's Home Theater and Components Channel.