Panasonic VIERA TC-L32X1 Flat Screen TV Review
Features (4 out of 5)
The Panasonic VIERA Series TC-L32X1 32-inch 720p LCD HD TV is a fairly small and cheap ($500) LCD television. Yet, this flat panel television is quite a nice model.
The universal iPod docking station is pretty cool on this machine. Hook up your iPod and listen to music and watch videos. You can also watch pictures on this flat screen television by hooking up your SD card to it and viewing them in high definition.
It has a high contrast ratio (12,000:1), which makes blacks better than on most cheap flat panel TV. It has a 178 degree viewing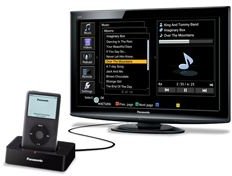 angle, which means that you can sit at an angle and view this picture without blurring.
This flat panel television is lightweight at 28.9 pounds, and its dimensions are 3.9 X 31.5 X 20.2 inches. This LCD flat panel TV comes in black which also helps diffuse exterior light. LCD televisions tend to work better if your house is well lit since the screen isn't as bright as big screen plasma televisions. This means you can place this television anywhere, which is easy since it's so lightweight.
Kid Friendly and Good Price for the Features (4 out of 5)
Kids can easily use this television with three HDMI inputs and a PC input. You can play games in the Gaming Mode, which runs smoothly with bright colors and clear blacks. The television also has a good surround sound system, which means that the audio should sound perfect.
The remote control is easy to use and can control all of your major components. With VIERA link if you have other Panasonic products you can control all of them with this remote.
One issue with this television is that, since it only comes in black mode, it shows more dirt than a grey LCD television would.
While you may be craving a flat screen plasma television, going with this smaller, more cost efficient LCD flat screen television may be a better deal overall. It also includes a power saving Eco mode with an automatic off function.