Blackmagic Design Intensity Pro HDMI capture card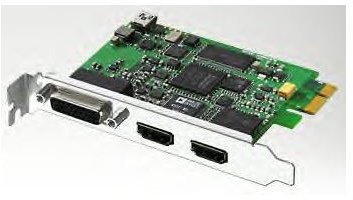 Capturing from HDMI was always thought of as problematic or impossible, particularly when the High-Definition format was first introduced. Other ways of capturing were often suggested, such as simply buying a tuner-card and recording a converted stream (MPEG-2).
Blackmagic now offers an easy solution if you want to record a video stream from your HD camera, a Television or any HD device which has a HDMI Output. The Design Intensity Pro capture card allows you to simply connect a breakout cable and record the video stream onto any of the supported programs (see the manual).
Find out more about this product by reading onwards.
Design and Features (4 out of 5)
The card is compatible with either Windows or Mac and is easy to install, only needing a spare PCI-express slot on your motherboard. The PCI is compatible with up to 16x so there shouldn't be any problems installing as plug-and-play.
The card provides capture options for definitions up to 1080i and by-passes the compression methods found in some devices, such as high-definition cameras, in order to output a higher-quality image closer to the source.
At the back of the card you have the main breakout connector and HDMI in/out connectors. There are also analog connectors for NTSC, PAL and S-video in/out, with the option to switch between Standard definition and HD.
The card also comes bundled with editing software, Blackmagic on-air, which allows you to edit your content live.
Performance (4 out of 5)
Once you connect to your desired HD device you will see that the quality is very high and the compression by-passing technology does its job. The card isn't too heavy on your computer's memory or processor, but for video editing it is recommended that you have at least 4 Gigabytes of RAM and a dual-core processor.
The colours and sharpness is quality and you always have the option of correcting the image should you wish to fine-tune some of the details. In case of noise on an image, due to a bad source or a source which was converted, you can apply the 3-way correction filter to adjust the quality; note that the image's quality will always depend on the source of the image.
Finally, you can also monitor the card's performance via the application provided, called 'Blackmagic Disk-Speed test'; this will provide you with important information regarding the read/write performance at various display resolutions and various frames-per-seconds. The utility is quite handy since it allows you to determine what works best for your current system.
Overall (4 out of 5)
For around $200 or likely less (since it came out in 2007), the Blackmagic Design Intensity Pro is certainly a must-buy, if you wish for a high-quality uncompressed capture onto PC. Being compatible with all of the popular Adobe editing software it allows for a great amount of creativity once you have your HD source ready to go.
Installation and connections are extremely easy and intuitive and there are really no great downfalls for the hardware, hence if you were looking for an easy way to capture HD streams from your camera or LCD set, the Design Intensity Pro is the way to go.