Optoma Pico PK-101 DLP Review - Top Quality Bright Projector of Images and Video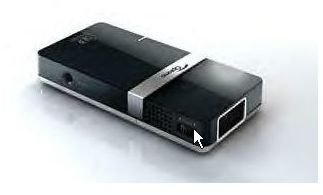 If you've ever wanted to show photos or videos to friends or family while on the move, or even have a cost-effective solution for quick demos or business-presentations, the pocket projector by Optoma is for you.
The Pico fits neatly in your pocket and allows you to project images, with native res of 640 x 480, onto any surface. It is battery powered and can be connected to anything with a video output, such as your PDA, mobile phone, DVD player, Playstation and many other mobile devices.
Design and build (3 out of 5)
The unit is designed for simplicity, featuring a black finish with a white band at the top displaying the Optoma logo. As mentioned it is extremely compact measuring 50 x 103 mm (W x H) and could easily be carried around in a pouch or in your pocket for convenience. The leather pouch is included in the packaging and looks similar to a mobile phone's, being attachable to your belt.
A led will indicate if your battery needs to be changed (2 provided) and the controls for the focus and the brightness settings can be adjusted with the power-on button. Although the buttons are well labeled, the black finish and the unit's compact measures make them slightly hidden away; once you have found your way around these it should be no problem however.
Finally, the mono speaker is just designed as a grill present by the side of the unit, near the focus button and the white band.
Features and Usability (4 out of 5)
The Pico projector uses a LED light source which, although not as bright as one would wish for a projector, is certainly capable of brilliant colour definition. The bulb has a long life expectancy (about 20,000 hours of life) and a fully charged battery should provide with more than an hour of projecting.
There are the usual USB ports to connect to your chosen devices, an AV cable, two batteries and a tripod adapter (the tripod is purchased separately) if you wish for a more professional presentation. The unit even includes an adaptor for IPhone so you can project images or videos you may have on there.
The Pico's brightness isn't powerful but its colour output more than makes up for that. As long as you have a good surface which to project to and the room is relatively dark you can expect good performance. There is no audio output here unfortunately, and the mono speaker which the unit has is hardly enough for presentations which need clear audio levels; you can still setup the audio from the source of your image/video and happily project away.
Anyone can set the unit up without any hassle and adjusting the brightness settings and focus is equally as easy. The connections are simple enough to understand even by non-technical users as there is only one video input connection.
The unit is particularly good for quick presentations, as mentioned in the introduction, and anyone from small business groups to design, advertising or photography agencies can find a good use for this neat DLP.
Overall (4 out of 5)
The Pico costs around $400 and, at first glance, you would think it is no different than any other portable projector. However the great colour rendering and the fact that it is so flexible regarding what and where you can project makes it a useful and neat projector to own.
Many reviewers righly insist that a new gadget must be useful before being cool; this could be easily applied to the Pico projector, since it certainly doesn't suffer from poor design or general 'uncoolness'. Luckily for Optoma or anyone who wishes to buy it, the PK-101 is both functional and neat to carry around. It caters to both the professional niche, who need to stick to their presentation deadline, or simply people who wish to have fun and show those goofy holiday snaps at the latest get-together.