Integra DTC 9.8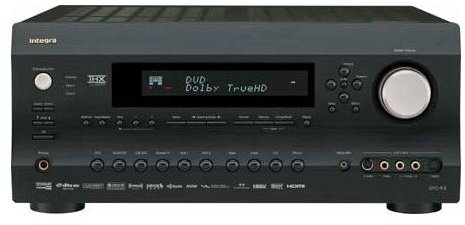 Integra are one of the leading manufacturers of home theatre components, together with competitive brands such as Onyko, Denon and others, and you would expect no less than the highest pro-quality when purchasing one of their units.
This review focuses on the latest model pre-amp/processor by Integra, the DTC 9.8. Very briefly, you would need a pre-amplifier to amplify a low level input signal and perform other functions such as equipment switching, equalisation, signal processing and much more.
Features (4 out of 5)
Less expensive than other pre-amps at around $1600, the DTC 9.8 unit is still very powerful as your main audio processing unit. It features 3 zones video/audio operation, 7 channel surround (XLR outputs), the much praised equalizer by Audyssey (with automated EQ, room correction system and other features) and HDMI 1.3a Input/Output (4 Ins/2 Outs).
The Integra has a remarkably clear sound quality for this price, being well rounded and punchy in the low end of the spectrum (without distortion even at high gain levels) and crystalline in the top end.
You can adjust a variety of settings with the MultEQ by Audyssey, allowing pre-processing for different channels. You can detect and configure each speaker and tinker with delay, crossover settings and your chosen level of course. However, operating the MultEQ is no easy feat but such an addition makes the unit quite powerful. When compared with other cut down versions of Audyssey in similarly priced units, the DTC 9.8's comes out on top.
Video Processing (5 out of 5)
The video processing on the unit is quite high-end, featuring the HQV Reon-VX technology usually found on higher end units. With the amounts of HDMI ins and outs it is ideal even for a large home theatre set-up, should you be thinking about expanding.
The high-end processing is capable of converting and cleaning (scaling and transcoding) a low quality signal to 1080p high quality output (Deep Color 36bit), which comes in handy with a standard definition TV image or similar. The processing will of course happily stay out of the way when dealing with HD.
Overall (4 out of 5)
When buying a preamp you would expect to fork out anything from $5000 upwards for a professional grade unit. However the DTC 9.8 clearly shows this isn't the case. It provides great functionality in almost every aspect of home theatre audio and video. It makes a brilliant addition to any set-up, whether large or small. Granted it doesn't do every single thing well, but weighing 'price vs. functionality' it is way more than you would expect from such a cheap unit.