A Review of the Logitech Squeezebox Classic Digital Music Streamer
Introduction
The Logitech Squeezebox digital music streamer allows you to transmit digital music stored on your PC or NAS across a wireless or wired network and connect it to a hifi or home cinema setup. This review covers its ease of setup, usability, reliability, audio quality and value for money.
Setup (5 out of 5)
The first stage of installation is to install the SqueezeCenter software in the location where your digital music is stored. In my case, this is my main PC, but it can also run directly from a NAS box connected to the network. This means that you do not have to have a PC running, offering a lower energy consumption option. Once installed, the SqueezeCenter software can be used to scan selected locations for digital music.
The software can handle a wide range of formats and resolutions. My music is stored as CD-quality music coded using the lossless FLAC codec for maximum audio quality. The Squeezebox uses 24-bit digital to analogue decoders, so will handle the highest quality digital music currently available such as 24-bit 192 KHz FLAC direct downloads, available from specialist music labels such as Linn and Naim.
Once the SqueezeCenter is setup, you can connect your Squeezebox to your music system using an RCA-phono cable. When the Squeezebox is first plugged in, it will look for the network and connect itself. This process proceeded smoothly in my case and took a total of less than 30 minutes. Further Squeezeboxes can be added to the same SqueezeCenter.
Squeezebox Classic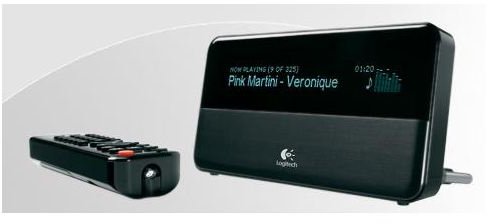 Usability (4 out of 5)
The Squeezebox itself is a compact and elegant box and comes with a shiny black remote control. The interface is based around a simple text display with limited display space. It took me a few minutes to master searching and inputting text, but to younger users who are familiar with texting from a mobile phone this will be more intuitive as the system works in a similar fashion.
Once this is mastered, it is relatively straightforward to access your music by album, artist or track, in shuffle or linear play. The key to a navigable music collection lies in the organization of your music collection. A collection organized by artist and album, in my case facilitated by the dBpoweramp CD ripper application (see my review for details) maximizes ease of use of the Squeezebox.
The box offers additional functions including the ability to scroll RSS news feeds, and a clock facility.
Reliability (5 out of 5)
Once setup, the system has performed flawlessly over the wireless network. For comparison, I used Songbird (see my review for more details) on a laptop to access the same stored music across the same wireless network. Unlike the Squeezebox, this setup was prone to momentary silences whilst the laptop waited to receive data across the network.
Audio Quality (3 out of 5)
The system appears to be practically transparent in terms of audio quality. In other words, quality is limited by the coding system and the replay system. Using 16-bit 44.1 KHz FLAC coding and playing back through a Cyrus amplifier and Dynaudio loudspeakers, the reproduction is comparable to the Cyrus CD player in the same system.
Use of lossy compression codecs such as MP3 or AAC will reduce audio quality, but the system will not add its own degradation to the signal.
Value For Money (5 out of 5)
The Squeezebox is available through outlets such as Amazon for around £150 in the UK. At this price, it represents exceptional value for a purchaser who already owns an audio system and a PC or NAS with a digital music collection.
Conclusions
This is an excellent system. A little bit of thought and preparation to ensure that your music collection is stored at the highest quality available and properly organized will be repaid handsomely with a convenient, cost effective and high audio quality experience.
Alternative devices are available from the same manufacturer. The Squeezebox Duet comes with a touch screen remote providing a more sophisticated interface for a higher price. The Squeezebox Boom offers a solution for replay without a separate replay system, and would be an ideal addition for a study or bedroom.
Finally, the Transporter offers the highest quality solution at a much higher price, which seems overkill and is in direct competition with some solutions from high end audio manufacturers.