Init Low-Profile Wall Mount Review - Flat Screen TV Wall Mount for 30" - 50" Flat-Panel TVs
Why the Init, Low-Profile Wall Mount Was Purchased:
My cousin recently bought a flat panel HDTV, and Instead of looking endlessly at yard sales for cheap used TV stands, she wanted a wall mount.
The Init, Low Profile Wall Mount for 30" - 50" Flat-Panel TVs became her perfect solution. At only $119.99 she figured she couldn't go wrong. She was looking for a low budget model, and $119.99 seemed to be as 'low budget' as these wall mounts would go.
Seeing that I am there at her apartment so often, I figured I would help her set it up when she bought it (plus I wanted to see how good this 'wall mount' looked). We both have 40" HDTVs, but I never really paid much mind to wall mounts. I never liked the crazy high price, nor did I want to dedicate the time to attaching the complicated looking thing up to my wall.
I said to myself that day, that if her Init Low-Profile Wall Mount did anything to improve the look of her apartment, I would greatly consider getting one for myself.
I am greatly considering it!
The Init, Low-Profile Wall Mount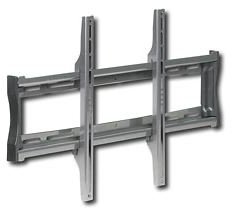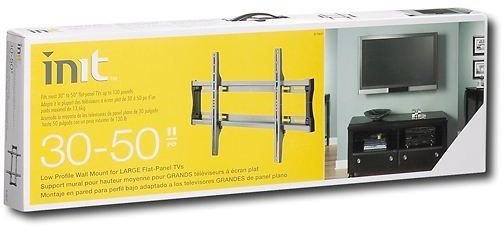 Features
Simplicity is the key when it comes to the Init Low-Profile Wall Mount.
Although the Init Wall Mount lacks special features that some high end priced wall mounts do, it is still one heck of a good flat panel wall mount. The metal itself is done in a graphite finish; it looks nice, but the flat panel will cover up its entirety.
It is designed to hold most 30"-50" flat panel TVs at up to 130 pounds. The Init Low-Profile Wall Mount also has an integrated locking system, an adjustable quick mount system, and it comes packaged with a small plastic battery operated stud finder, which also has a small bubble leveler built into it.
It's simple, it's sturdy, and its affordable.
Ease Of Setting Up The Init Wall Mount (5 out of 5)
Me smart! Me no need no instructions. Me look at box, and me figure things out like brave caveman do.
So while there were instructions included with the Init, Low-Profile Wall Mount for 30" - 50" Flat-Panel TVs, us being girls we figured an occasional glance here and there would be all we needed in order to master the art of getting this wall mount up on the wall.
In all honesty it was all we needed; an occasional glance. We did not have to study the manual, nor follow the step by step instructions religiously. Setting up the actual mount itself was like a simple child's puzzle, things just came together without frustration. Everything is set up on the instruction manual in a neat easy to follow picture setting.
Tools we did need to put the mount together included a screwdriver. Nothing else was needed for this section of assembly.
The Init, Low-Profile Wall Mount comes with all of the necessary screws and washers. Putting the mount together was simple, all it really asked for was for us to screw two brackets into the back of the HDTV using the included screws.
With a little eye skills, we were able to level the brackets holes up with the mount holes on the back of the HDTV and screw them in. For those of you with smaller or larger HDTVs, fear not, there are holes placed in many areas on these brackets to ensure that the holes on the brackets will match the holes on your unit. Putting the mount together was simplicity at its finest.
So adding the brackets to the back of the HDTV was a cinch. let's see how easily things went when it came to getting the actual mount's back panel on to the wall.
Ease Of Setting Up Wall Mount to The Wall (5 out of 5)
After discovering the included stud finder, we tested out to see if it worked. As it turned out, this cheap looking black plastic stud finder that was included, worked flawlessly at finding 2 needed wall studs.
For those of you fortunate enough to catch this review before making an un-holey mess on your wall, do know the finder works with precision (at least ours did anyway). It is however very easy to miss, as the box is filled with a lot of protective paper, and plastic. The included batteries are also sloppily just thrown into the box, and could get lost easily while pulling all of the parts out of the box.
Anyhow, screwing the mounts back panel to the wall was actually a breeze, but you're going to need a drill.
The mounts back panel has pre-cut slits for you to place in your screws and drill them in to the studs. There are 4 holes located on the far corners of the panel, and 2 holes located at the middle of the panel. We chose to drill in only 4 holes at the far corners. They seemed really sturdy and in place, a few hard tugs on it, and it was quite clear it was going nowhere.
The mount is meant to hold up to 130 pounds, so if you have your mount up in place, and screwed into the wall studs, you do not, under any normal circumstance, have to worry about your precious flat panel falling from it.
After accomplishing getting the back panel up, we felt pretty good about the rest of our mission. Which included getting the actual 40" flat panel LCD on to the mounting bars.
Ease of Mounting the Flat Panel HDTV To Init Wall Mount (5 out of 5)
Now here comes the tricky part. Although we think we are strong cavemen, we are really actually pretty weak girls. The 40" HDTV felt like it weighed a solid metric ton. Our job was to lift this solid metric ton up on to the Init Low-Profile Wall Mount, without dropping it. Oh boy!
All we could do was pray that when we had it hoisted up, that placing the brackets down onto the bars would be an easy task.
We struggled a little bit, but in about 5 minutes flat we had the 40" HDTV mounted up onto the Init, Low-Profile Wall Mount. Had we the help of a manly man, it would've been up in about a minute, or less. So although 'a man' is not on the list of needed tools, I recommend having one nearby (I trust would trust a woman who goes to the gym to be more help than me or a similarly pear shaped man, I'll be in the kitchen making Daiquiris - Ed.)
Thankfully when we lifted the HDTV up, and slid it down onto the mount slowly, the bracket's teeth caught the bar and clicked right into place. Phew!
Overall Opinion (5 out of 5)
My cousins Flat Panel HDTV looks smoking hot hanging on her wall. It saved her space (she was able to get rid of an ugly dresser she had been using as a shelf for her old TV), pulled the entire look of the living room together, and was not that hard to set up at all.
All in all, the Init Low-Profile Wall Mount is a lower priced wall mount that is designed for simplicity. It does not come with any fancy swiveling features, nor does it have the extending neck that much higher priced wall mounts do. For the lower asking price attached to this mount though, you really cannot beat it.
In less than an hour we had the wall mount hooked into the wall, and the flat-panel HDTV hanging from it. It was a job well done, it was as easy as putting a 20 piece puzzle together, it is nice and sturdy, and best of all the mount created a nice high end look in her living room.
I thought we were going to be putting the mount together all afternoon, and was happily surprised at just how quickly and easily things came together.
Personally I would highly recommend the Init, Low-Profile Wall Mount for 30" to 50" Flat-Panel TVs to others. It can be purchased at Best Buy on sale, for under $110.00.
It's so easy that a girl can put it together.
Related Material
Tips on Hanging a Flat Screen TV Mounting a flat screen television on the wall is a job even a novice DIY-er can tackle. One of the first decisions to make, though, is how high you should hang your flat screen TV. These tips and steps will help you hang the TV safely and properly.
Samsung 40" 1080p Flat Panel LCD HDTV Review The Samsung 40" 1080p Flat Panel LCD HDTV: Model #LN40A550 offers clarity so clear, so crisp, so beautiful, that your mouth will hang ajar for the remainder of the day. Warning: Random drops of drool is common.