Samsung 40 Inch LCD TV Review - The Samsung 40" 1080p Flat-Panel LCD HDTV (Model LN40A550)
The Samsung 40" 1080p Flat-Panel LCD HDTV, Model LN40A550, and Why I Wanted It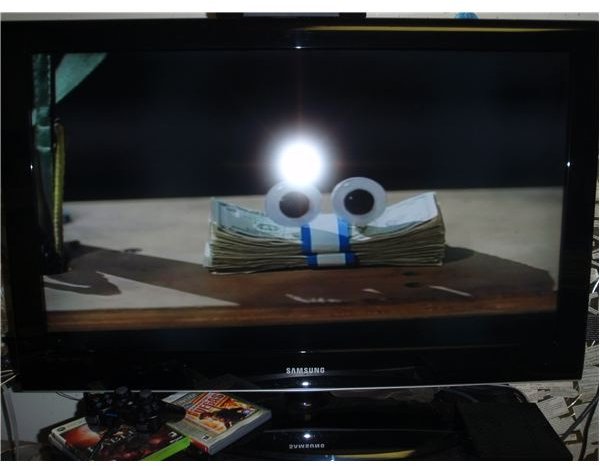 Before spilling out close to 2 months pay on an HDTV I had a lot to consider. I had the price to think about, the brand to think about, and I had no clue what the heck the difference between Plasma and LCD was.
With each and every trip I took to Best Buy, the decision only grew tougher and tougher. You see they have their HDTV floor plan set up all wrong. There are just too many damn HDTV's to view on one wall, and it makes the indecisive buyer feel overwhelmed; their head spins, their eyeballs roll, and they end up running out of the store more afraid of purchasing a unit than the trip before.
This happened to me a few times actually (It happened about 9 times, but who's counting?).
Then one night while sitting home, I realized I was squinting a lot in order to view my old boob tube; naturally this sent me into an uninterrupted daydream about the HDTV's I had seen earlier that week in the store. Once I snapped out of it, I really got to thinking.
What do I do every day?
I wake up. I eat, I go to work. I get home, and I turn on the TV to catch some sleazy reality shows on VH1 before I go to sleep. The next day is a repeat of the last. I realized most of my free time after work I spend it in front of a TV. Then I figured: you only live once, so live it up kid! I convinced myself that buying an HDTV was a necessity. This was the first step in helping myself get over the big spender jitters.
The very next day, I drove back to Best Buy totally confident that I would buy the HDTV this time. While there I felt my nerves sparking up again, and out popped the best salesman in the world.
At first I was only looking to spend around $800. However this guy had skill, and before I knew it I was walking out with the best HDTV my eyes could spot. This HDTV was set up on the out isle, away from the other HDTV's, and it made it look 100x's better! A spot all its own, and a salesman who knew I'd be easy to work. It was magic. It made sense.
I was looking to only spend $800, but ended up coughing up close to $2,000 for a Samsung 40" 1080p Flat Panel LCD HDTV, Model #LN40A550!!!
Why I Fell In Love With The Samsung 40" 1080p Flat-Panel LCD HDTV, Model LN40A550
Now that day there were over 50 HDTV's on display in the store. I stood far away from the out isles at first because I knew these models were way over my limit.
The more I looked back and forth at the models all lined up on the rack next to one another, my mind kept jumping back and forth. I knew I wanted one, but didn't know which one. The sales guy told me that most people go with LG or Sony. Personally I have never been a fan of LG, and Sony…yeah I like them, but they didn't impress me with the overdone high gloss finished screens.
Samsung was the brand I liked from the get go.
Initially I was going to walk out with a smaller, lower priced Samsung 720p, but the second the salesman showed me the Samsung 40" 1080p Flat-Panel LCD HDTV LN40A550, it was love at first sight.
The picture clarity was the first thing I noticed. The picture was sharper than a brand new Wolfgang Puck knife, and the clarity was superb. There was no way I would ever catch myself squinting with a view this spectacular.
I didn't hesitate at all. I said 'I'll take it'.
My head nearly exploded when he told me that they were having a special on Blu-Ray Players. The special went like this. A free Blu-Ray Player, and 3 Blu-Ray Movies with every HDTV purchase over $1,300.
So the salesman walks into the back storage and returns empty handed. He was sorry to inform me that all of the free Blu-Rays were gone. He would however give me a brand new Playstation 3 for only $100.
What!?!?! No way! Seriously! Oh My God! I was either a fool, or he was one hell of a salesman because he did after all manage to get yet another $100 more out of me.
Appearance & Ease of Set Up (5 out of 5)
The Samsung 40" 1080p Flat-Panel LCD HDTV, Model LN40A550 was solid gorgeousness all wrapped into a huge box that I had to lug home. I worried about the difficulty of setting it up in my room, mostly because I thought I would be too weak to lift it up and set it up.
I was actually very, very impressed with how the folks over at Samsung packaged the HDTV. Instead of having to rip apart the cardboard to safely get to the unit. I noticed there were these crafty little plastic notches built into the box. A simple twist and pull of each notch and the box came apart on its own. All I had to do was slide it off of the base cardboard box which left nothing but some cardboard protection and Styrofoam pieces between me and my dream unit!
The Samsung HDTV came already attached to the base, which is made of high gloss durable plastic. The base has a clear protective film to protect it during shipping that you can remove once you set it up. An impressive feature that this stand has is that it swivels, so if you feel like easily moving the HDTV's view around for precise viewing you can. I like this for when I am working on my computer across the room. I can simply swivel the entire HDTV around with no effort at all.
You have the option, of course, to mount this sweet gem up on a wall unit. I liked the base, so I simply plopped the set right where my old crusty TV had been.
The screen has a matte appearance to it, which I actually recommend due to the glare that high gloss LCD screens give off in bright rooms. The bottom center of the frame has a nice, clean, Samsung logo on it, and your adjustment buttons can be found on the right side of the unit's frame. All in all, the Samsung 40" 1080p Flat-Panel LCD HDTV, Model LN40A550 is a solid 40 inch mass of beauty.
Adjustments (5 out of 5)
You can make many, many adjustments on the Samsung 40" 1080p Flat-Panel LCD HDTV, Model LN40A550. You can adjust the lighting, you can adjust brightness, contrast, screen viewing size, sound, and every other detail one could imagine.
If you buy this unit at Best Buy they will offer to come to your home to set it up according to your room's lighting, size, etc.
Working with the adjustments is simple though, and frankly your eyes will know what they like and what they don't. To each his own. I suggest toying with the settings by using the included remote. You will find the settings that are right for you.
The adjustment buttons on the unit seem a little superfluous, why get up when you can use the remote? It is however nice to know they are there in case you ever break the remote. I can count numerous times when we have had remotes break on old TV's and we had no way to adjust the settings. It sucks!
(Lose a remote? Check yesterday's newspaper. Recycling centers are constantly pulling remote controls out of people's old newspapers. -Ed.)
Features (5 out of 5)
The Samsung 40" 1080p Flat-Panel LCD HDTV, Model LN40A550 comes packed with many features that are sure to please high definition enthusiasts.
The model comes with 3 HDMI ports to make 3 connections. You can use them on your HD Cable box if you have one (if not I recommend the upgrade), You can use them for other devices as well, such as video game consoles. If you have more than three devices that require HDMI cables, you can simply switch them around.
There is also a VGA port for you to plug your tower in to the unit to use your HDTV as a monitor for your computer. I did this a few times, but it took forever for me to drag my mouse around the 40 inch surface. Ha! There is also a USB port
You also have of course 1 RF, 2 component A/V ports, 2 composite A/V ports, and 1 S-Video port.
The Samsung 40" 1080p Flat-Panel LCD HDTV, Model LN40A550 comes with a built in HD Tuner. You have to however purchase an optional box in order for this feature to work. Personally I have never used this feature, and frankly don't think I ever will need to. We get HD Channels with our cablevision box and it works for us perfectly.
The unit also supports PIP (picture in picture); the ability to watch 2 channels at once. I like this feature, but use it very seldom. It's great for women who like watching their shows, while their spouse needs to catch a game at the same time.
Entertainment mode is especially useful for when you want to adjust picture setting for different content. For instance, you can customize game viewing settings and save the settings to use for when you are video gaming.
There is also Output, which allows you to set up headphones with the unit. I never used this feature, and probably never will. But hey, it's there if you want it.
Oh but that's not all folks, the unit is of course 1080p, which as of now is the best of the best when it comes to picture quality. Although the difference is very subtle from 720p models, you can see it, and you will love it! Many newer XBOX 360 and Playstation 3 video games support up to 1080p, so you will notice it in gaming as well.
There is also a 16:9 aspect ratio, which allows you to enjoy a full wide screen cinematic like viewing experience. Personally I love the wide fit viewing the most.
We also cannot forget High brightness (500 cd/m²) and 30,000:1 dynamic contrast ratio, which brings viewers superb, accurate coloring in different on screen lighting conditions.
You also have 178 degree wide and horizontal viewing which allows you to see the screen pretty much anywhere in the room. I'm at my PC right now, and the unit is to my left. I am able to fully view the screen without head strain. Although it's an odd feature it is one that you will take notice of, and appreciate.
The Samsung HDTV also has 5 millisecond response time which means less blurring and more crystal clear picture during fast paced scenes and gaming.
The list goes on and on my friends, the features seem to never end. The LN40A550 also has 2 built in speakers with SRS TruSurround XT. The sound is pretty phenomenal, but I'd still have to recommend an external for those looking for the ultimate in their high definition viewing experience.
One of my personal favorite features that is included with the HDTV is the Auto Volume Leveler. This nifty feature makes sure that during loud scenes the sounds level remains the same. With my old boob tube, I constantly found myself lowering the volume during loud music scenes. With the Samsung LN40A550 I never have to lower the volume, as it stays consistent throughout my show.
Honestly there are just so many fabulous features that come packaged with this model that it will impress just about anyone.
Ports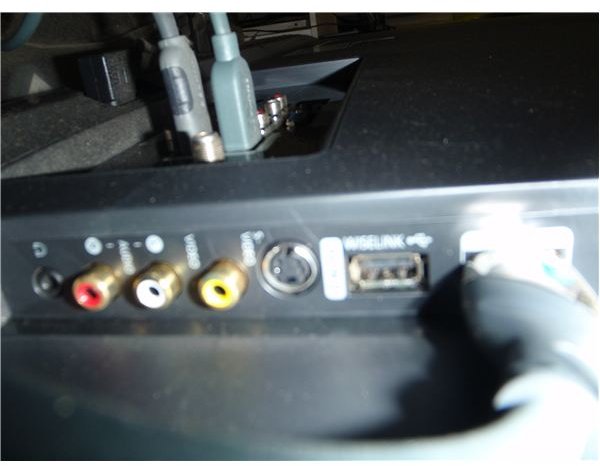 Back Panel Ports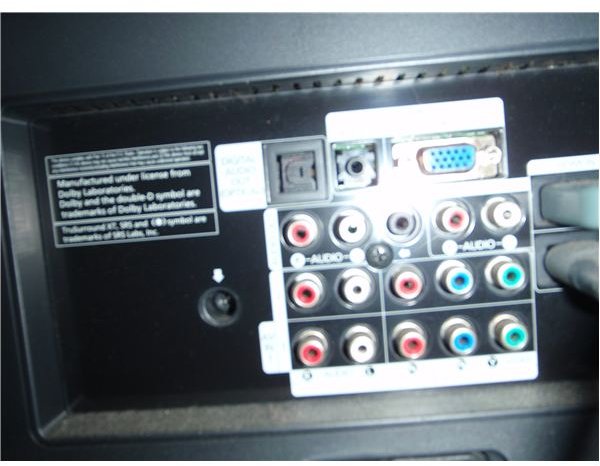 Sound (5 out of 5)
As mentioned in the features portion of this review, the Samsung 40" 1080p Flat-Panel LCD HDTV, Model LN40A550 comes with 2 built in speakers which deliver SRS TruSurround XT.
The name sounds all delicious and wonderful, but for those wondering how the speakers sound: I will say that I am more than impressed with the quality of sounds that the unit delivers. I especially love the auto volume leveler, which keeps the volume at the volume you set it at! During loud musical scenes the volume stays the same. With older TV's louder scenes sometimes would blow out my eardrums! I like the fact that I don't have to reach for my remote to lower the volume.
Although the speakers that are built into the LN40A550 are pretty spectacular, I still adore the charming sounds that BOSE speakers give off (That however is an entirely different review my friends). If you are not looking to spend an additional $500-$1,200 on high end speakers, you will find that the Samsung's built in speakers work well enough.
Picture Quality On Standard Cable TV (3 out of 5)
I cannot stress it enough to new users of high definition television sets. Cable TV only puts out at around 450p in quality (the number is slightly better for digital cable).
So what does this mean to an HDTV buyer? It means that the quality of your cable TV will not be as high as what your unit is capable of handling, therefore the picture quality on basic cable TV is much, much lower than say, a gorgeous Blu-Ray movie.
I wish I could review the HDTV while using Vios, unfortunately our area does not yet offer Fios.
Picture quality on standard cable TV looks very decent compared to old TV sets, but again, it is not as great as DVD viewing, Blu-Ray quality, or video game picture quality.
DVD Picture Quality (5 out of 5)
My word, I did not think old school DVDs would look quite as spectacular as they did when viewed on the Samsung 40" 1080p Flat-Panel LCD HDTV, Model LN40A550.
The picture quality of DVDs looked sharp, clear, and heck I was noticing details in my old DVDs that I have never seen before. I could see the threads in clothing, pimples' on actors faces I never could see before, and in some cases I was even able to see pores! It was quite an eye opener, because all this time I had thought most actors and actresses were flawless! Not on this unit! All their flaws stuck out like sore thumbs; making me feel all the more pretty! Haha! I did not think picture quality would get any better than this…that was…until I popped in my first Blu-Ray Disk!
Blu-Ray Picture Quality (5 out of 5)
The very first Blu-Ray Disc I popped in was Pirates of the Caribbean, which is a gorgeous movie alone. Having it play in Blu-Ray on the Samsung 40" 1080p Flat-Panel LCD HDTV, Model LN40A550, was a whole new experience.
Not only did it bring out details I previously missed (and this is coming from someone who watched this movie around 50 times) on regular DVD, but colors were more vivid; facial flaws were all recognizable; and small details that would normally go unrecognized all popped with vivid stunning detail.
The sounds were even brought to life more than on DVD, so much so that you could get lost in the picture and feel as if you are there!
If you are going to buy an HDTV, any HDTV, I cannot stress it enough; get a Blu-Ray player! This is high def viewing like never before, and you will absolutely be mesmerized by it.
Overall (5 out of 5)
The Samsung 40" 1080p Flat-Panel LCD HDTV, Model LN40A550 is an excellent buy. It packs in all sorts of features that you and your family will enjoy…plus, it's just one of those things that will give you automatic bragging rights! Not only that, you can pretty much guarantee that when the big game is on, everyone will want to pile on over to your house to enjoy your HDTV as well.
When I picked it up when it first released I paid quite a hunk of change for it. The model however has been lowered by nearly half what I paid. Many online vendors and stores carry the model for under $900, which to me is a deal you can't refuse. If you want to get a personal one on one look at the model, than definitely head down to your local Best Buy, or PC Richards for a viewing.
All in all, If you are looking for a crystal clear, sharp image, you will not at all be disappointed with the Samsung HDTV, LN40A550. I have had this particular high definition model for just over a year now, and I have not been disappointed once since owning it. It has provided me with hours and hours of beautifully flawless quality in picture.
I've been a TV junkie since I was a kid, and taking my viewing pleasures up to the next notch by going high definition has been nothing but a pleasure. It is one big high end purchase that I have not, and likely will not ever regret. Most of the high priced electronics I buy I walk out with buyers remorse. This was not the case with this HDTV.
It will offer you TV viewing like you have never seen before, and I think you will be impressed.
Oh and hey, did I mention the awesome chime noises that it plays when you power the unit on! Yeah it comes with that cutesy extra too!