Marantz UD5005 Blu-Ray/DVD Player Review
The Universal Disc Player
If you wade through the marketing material that Marantz provide on the UD5005, you quickly get the impression that they view it as more than just a Blu-ray/DVD player. They refer to it instead as a universal disc player. It plays all disc formats including DVD audio, Super Audio CDs and 3D Blu-ray/DVDs. Even disc formats of the future are slated to be supported by updating the firmware on this device.
So, is it really all you will ever need from a home entertainment unit? Here's what you need to know.
Features (4 out of 5)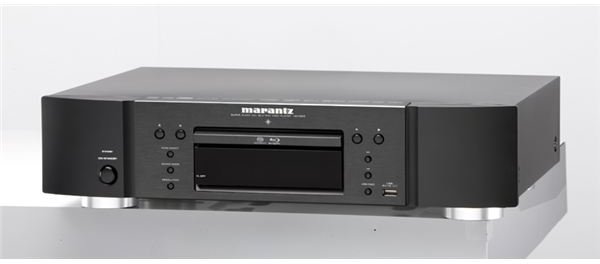 The Marantz UD5005 is a solid and stylish disc player that weighs in at 9.5 lbs. It is intended to be part of a Hi-Fi component setup that includes an amplifier and speakers, but it works just as well when used alone with just a TV. It has HDMI control functions that turns a TV on or off when the player is powered on and off, and provides the ability to control the unit from a TV remote control.
A slew of video resolutions are available ranging from 480/576i all the way through to 1080p. The standard Blu-ray 24 frame per second rate can be turned on or off according to what your TV will support and auto or source detection settings are available if you are not sure what resolution to choose.
If you are unhappy with the picture quality, or would like to tweak it further, there are a large number of picture adjustments that you can make to influence noise reduction, brightness, contrast, gamma correction, hue tones and more.
A USB port on the front of the device allows you to access music, video or picture files that you have stored on a flash drive. A network connection is also included for BD-Live features, YouTube and Netflix streaming apps, and for firmware updates for the device itself. However, it should be noted that the Marantz UD5005 cannot connect wirelessly to a home network. It has to be hardwired to your Internet connection, and this is one of the few strikes you can level against the UD5005.
Marantz also claims that they have increased the startup time for this model, but it still takes 26 seconds to power up and open the tray for the first disc.
Ease of Use (5 out of 5)
Setting up the UD5005 was a breeze. The manual has large, clearly marked pages that walk you through the basics step-by-step. The home screen menu is easy to navigate and has clear menu options to let you adjust the settings that you want for playback. More advanced settings are configurable too, but they are just as easy to adjust once you learn what options are available to you. The remote is pretty self-explanatory with well laid out buttons that are labelled as you would expect them to be. An HDMI cable is not included, but rarely is with DVD players these days.


Picture Quality (5 out of 5)
Right out the box, the standard picture settings were spot on for me. Of course, this may depend to a certain extent on the type of TV you have, but, as stated above, the UD5005's settings can be tweaked to match your own individual viewing preferences. The picture quality was exceptional when watching Blu-ray discs, and so it should be because this is its primary purpose. However, the player also did a great job with standard DVDs, so much so that I often found myself forgetting the movie that I was watching was not actually an HD version. Images are sharp, contrasty, and well-defined. Blacks are deep, yet detailed, while the highlights are bright and clear. It is undoubtedly a visual treat for your eyes.
Audio Quality (5 out of 5)
Marantz established their business some time ago with a reputation for quality Hi-Fi components. As such, it should be of little surprise to hear that the audio quality on the Marantz UD5005 is nothing short of excellent. The treble is crisp and clear, while the bass is well balanced without being overwhelming. Midtones are easy to distinguish and the digital audio on my 5.1 surround sound home theater has never sounded better, regardless of which disc format that I tried. The Dynamic Range Compression (DRC) is off by default, but can be turned on, or set to auto, in order to compensate for extreme variations in volume. In short, there is little doubt that the audio quality matches, or beats, that of the picture quality.
Value for Money (4 out of 5)
The price of Blu-ray players has come down a lot since they were introduced, so there will likely be a good number of people who think that $599 is a lot of money to invest in a Blu-ray/DVD player. However, the UD5005 is exceptionally good at what it does, and it comes with a 3-year warranty that covers both materials and labor. It would be nice to have wireless networking capabilities, like a lot of other players now have as standard, but the core functionality of this device - its picture and audio quality - goes a long way to justifying the price tag.
So, if you are serious about upgrading your home theater setup, the UD5005 is a great choice, and one you will likely not regret.
References
Review written based on author's own experience.
Images courtesy of Marantz US
This post is part of the series: Marantz Blu-Ray DVD Players
These in-depth reviews will give you the rundown on some of Marantz's most popular universal disc players - the UD5005 and the UD7006.