Dream System Review: Sony DAV-FX500 Home Theater
DAV-FX500: Hit or Miss?
The Sony DAV-FX500 home theater system is part of the Sony DVD Dream System line of home theater products. This is an older home theater system. While Sony no longer manufactures this product, you can still purchase it from outside vendors. This means that you can usually snag a deal on this system. When it was released in 2006, it cost $600. You can usually, however, purchase the system for a fraction of the original cost. But, is it worth buying?
Ease of Setup (5 out of 5)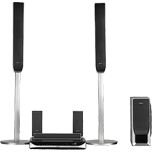 Well, the short answer to that question is yes. The DAV-FX500 Dream System is amazingly easy to use, and the sound quality is amazing. The Dream System is combination five disc DVD/CD changer and surround sound system. This is a budget home theater system, and it's really designed with the beginner user in mind.
It's surprisingly easy to setup. It comes with an auto-calibration microphone, which helps you with the proper placement of the speakers around your home. This is often the most difficult part of setting up a home theater speaker system: figuring out where the speakers go. The auto-calibration microphone is a major plus for new home theater users. This ensures that your 5.1 speaker system provides you with the best sound quality.
Audio and Picture Quality (5 out of 5)
Besides the sound quality, the DAV-FX500 home theater system is also XM satellite ready. This means that you just need to purchase a Sirius XM radio subscription and add an XM Connect-and-Play antenna to the system. Then, you can listen to nearly 200 channels worth of music or talk radio. XM subscriptions usually cost less than $20 per month.
Besides the XM antenna, you can also plug your MP3 player or phone into the audio input. This allows you to play your stored music on your home theater speakers.
The picture quality is also quite good. It also works with different types of televisions, making it very versatile. It comes with an HDMI output jack. This means that you can add other components to your home theater system. You can also convert your DVDs into other formats, including 720p or 1080i.
Drawbacks (3 out of 5)
The one major drawback of this system is that the DVD/CD changer takes a few minutes to switch between CDs or DVDs. This is really an annoyance and not a major problem. Just switch your DVD, and go into the kitchen to get your popcorn and drink. By the time that you get back, the Dream System will be ready to play your film or music.
You may also have issue finding additional items for your speaker system. The instruction manual does not give instructions as to where you can order additional speakers or brackets. You may not also like the remote. It has entirely too many buttons for the average user. You'll probably just use the main ones. If the remote is really distracting, you can also invest in a type of universal remote, which can control all the different equipment in your home theater.
Quality for the Price (5 out of 5)
Overall, the Sony DAV-FX500 home theater Dream System is truly a dream to operate. It also works like a dream. The sound quality is amazing, and it's so easy to set up. The only major issue that anyone will run into is that it's slow to change CDs or DVDs. The other problems are extremely minor, and they are definitely not deal breakers.
Most people have been able to purchase this system for around $300 to $400. This makes it extremely affordable and a very quality product. And, the HDMI port just adds to the attractiveness of the product. If you can snag one of these systems, you should. You won't regret the purchase.
References