Model SMP-N100 Sony Network Media Player with Wi-Fi Review
SMP-N100 Overview
The Sony network media player model SMP-N1000 allows you to stream media, including videos from YouTube and music from Pandora. It comes with both Wi-Fi and Ethernet connectivity, and it's relatively cheap at around $100. But, is it what you have been looking for in streaming technology?
Remote Control (3 out of 5)
It comes with a remote control. The remote is nice and large. But, you probably won't use most of the buttons, including the large number pad. It looks cluttered, and you may have to spend some time figuring out where the important buttons are. Sony would have done better to scale down the remote a bit.
Compatibility / Wi-Fi (5 out of 5)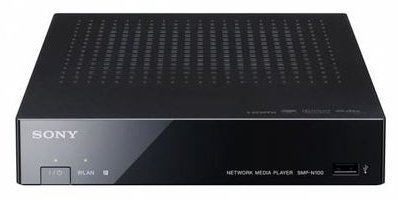 But, if you are lucky enough to have a phone that's compatible with the system, you may not use the remote anyway. You can control it from both the popular iPhone / iPod Touch and certain Android phones, which is an amazing feature. The Wi-Fi connectivity is also a standout feature. That means that you can connect the unit to your current wireless broadband network, allowing you to stream Internet content without connecting the device to an Ethernet cable.
Body (3 out of 5)
The media player comes with a lot of ports. It has a HDMI output port that allows you to connect the player to an HDTV, allowing you to stream HD videos on your TV. Another standout feature is that it supports both composite and component video with the two outputs.
All the streaming capability is there. But, there are some downsides to this product. For one, it's extremely large at 7.38 inches wide by 1.63 inches high by 7.38 inches deep. So, you may have some trouble fitting it into a cramped media cabinet. But, you can stack on top if necessary.
Interface (2 out of 5)
The major downside comes in the interface. It's difficult to figure out how to set it up, especially the networking feature. This means that you'll probably be making a few calls to Sony. The Video tab is also confusing since the icons are extremely small, making it difficult to see what's available. Also, you can't search Netflix like you can with other services, making it cumbersome to find movies.
Bang for Buck (3 out of 5)
Overall, the Sony network media player model SMP-N1000 is affordable, and it comes with upscale components. The built-in Wi-Fi and the ability to control the device are standout features. If you can just get past the awkward interface, it's well worth the price. But, if you are not tech-savvy, this may not be the media player for you. It's hard to catch on to how to use it, and it's very difficult to set up the Wi-Fi system.
References
Moskovciak, Matthew. "Sony SMP-N100", https://reviews.cnet.com/digital-media-receivers/sony-smp-n100/4505-6739_7-34420052.html?tag=mncol;lst;8#reviewPage1
Image Credit: Amazon.com, https://www.amazon.com/Sony-SMP-N100-Network-Media-Player/dp/B0042SDDXM