Boxee Box Review: Bringing Web Content to the Living Room
What's the Boxee Box?
Home theater PCs have long been a great way to enhance your entertainment. The Internet offers a seemingly endless buffet of content, both free and paid, and accessing that content can in some cases make your traditional selection of cable or satellite channels feel obsolete.
Yet there are also problems with HTPCs. They're often bulky, they're expensive to buy or build, and they're often not much fun to use. Using a PC with a home theater means dealing with an operating system designed for desktop computers and all the maintenance that comes with that.
D-Link's Boxee Box promises a solution. It offers most of the functionality of an HTPC (the ability to record TV excluded) with a lower price tag and a better interface. So, should you invite Boxee Box into your home?
Design (3 out of 5)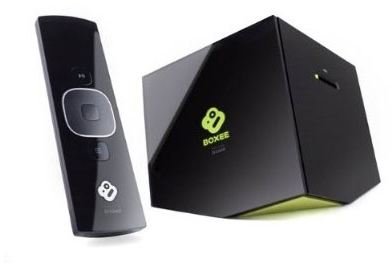 The Boxee Box certainly commands attention. It's shaped roughly like a cube, but tilted at an angle, so that it looks as if the hardware is sinking into whatever surface the Boxee Box is placed on. Most of the unit is matte black plastic, but the face has a smooth piano black finish and the bottom of the device is coated in neon green.
While the funky design looks great and will likely be a conversation starter when it's spotted by visitors, the practicality is questionable. The Boxee Box isn't particularly thin in any direction, and since the cube is tilted rather than level, it doesn't have flat surface that could potentially support any other device. Despite being designed specifically for the home theater, Boxee Box doesn't seem like it would fit well inside one.
Once you have found a suitable place for the Boxee Box - most likely on top of something or tucked away into an awkward corner - you'll need to control it. Boxee Box thankfully ships with its own remote which is designed specifically for the device. On one side, the remote is elegant. It has only three buttons and a direction pad that is used to move between menu options or control a mouse cursor. Flip it over, however, and you'll find miniature keyboard.
The remote is comfortable to use in most cases. It's light and thin, and the buttons are responsive. However, gripping it too hard can cause unintended actions, as your hand will likely activate buttons on the underside of the remote. It's an imperfect design, but having used the insane remotes that are shipping with Sony's Google TVs, it certainly could be worse.
Software (4 out of 5)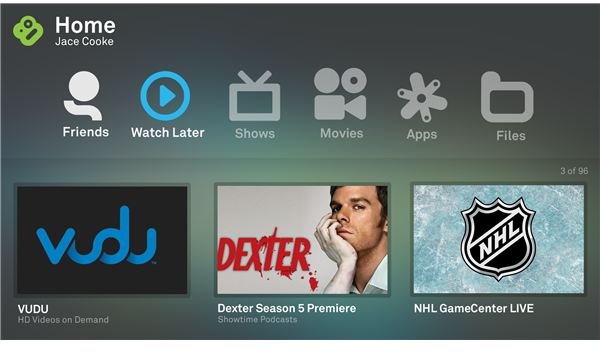 Despite the advantages of HTPCs, they have one huge problem: the interface. The default interface of Windows (and most any Linux distro) isn't great for use from a couch. There are programs that can combat this, but I've never used an HTPC that felt as easy to use as a Blu-Ray player, no matter what software was installed.
Boxee Box solves this problem with style by offering an interface that consists largely of big icons and big buttons. When you launch Boxee Box you are dumped into a home screen that offers navigation options (such as shows, movies and apps) as well as a few recommended picks. It's all very easy to understand and very easy to use with the provided remote. By default, most of Boxee's interface follows this big-icon design, but you're usually given the option to switch between an icon view and a list view. While I personally think the icons are always better, it's nice to have a choice.
While most of the interface is easy to use, there are some sore points. The web browser, for example, feels clunky and isn't much fun to use with the supplied remote. I also would like to see more customization, as there are some features I simply don't use. The recommendations on the home screen, for example, have never impressed me. I would rather replace them with my favorite apps.
Performance (3 out of 5)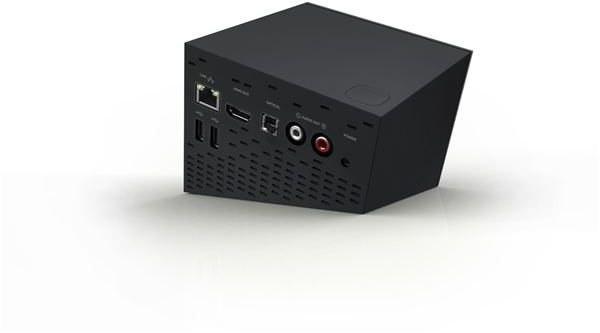 The Boxee Box comes with an Intel Atom processor label, which isn't likely to inspire much confidence in the hearts of anyone who has ever used a netbook. The label is a bit misleading, however, because the hardware inside the Boxee Box is rather unlike what you'd find in an Atom netbook. It's a system-on-a-chip. The Atom-derived CPU, the memory controller, and the GPU are all on a single chip.
As a result, performance is far above what you'd expect from a mere Atom processor. Yet it also remains slower than I'd like to see. The problem is not video playback; I had no issue playing 1080p content from any source on the Boxee Box. Instead, the slowdown occurred in the interface itself. Scrolling through a list of shows, movies or apps is sometimes jerky, and the web browser could certainly be quicker.
But those issues are nothing compared to the elephant the room; occasional hardware lockups. Although quite rare, I did experience several hardware lockups while watching video on the Boxee Box. These require a manual restart via the button on the Boxee Box. I'm not sure if these lockups are due to hardware stress, or if they're more of a software issue, but they damage this otherwise well-polished product.
Price to Value (3 out of 5)
The Boxee Box has its problems. The design could be better, the hardware could be quicker, and there seems to be some stability issues that still need to be worked out. All of these problems work against the Boxee Box, and they could prove quite frustrating for some users.
Yet, in spite of its problems, the Boxee Box ekes out a recommendation. Despite all the issues, the Boxee Box makes it easy to lean back on your couch and enjoy web content from a variety of sites. Rather than being forced to sit in front of your PC or drag out your laptop, you can watch video in all its glory on your HDTV. Anything you could watch on your PC - including YouTube videos and webcasts - can now be enjoyed from the comfort of a couch.
The price is also in Boxee's favor. You can pick up a Boxee Box for about $180 on Amazon.com. That's a great price. It'd be hard to ignore the Boxee Box's problems if it were $400, but at $180 it's a bargain.
Tech Specs
Dimensions (LxWxH): 4.5" x 4.5" x 4.6"
Language Support: English, French, German, Italian, Spanish
Network Protocol Support: IPV4, ARP, TCP, UDP, ICMP, DHCP Client, DNS Client, DDNS Client, HTTP Server, Samba Client, RTP/RTMP, VPN: PPTP, DLNA 1.5 (DMP)
Wireless: 802.11n/g/b (2.4GHz)
Ports: HDMI 1.3, 10/100 Fast Ethernet, 2x USB 2.0, Optical Audio (S/PDIF), Analog Audio (RCA L/R)
Memory Card Support: SD, SDHC up to 32GB, MMC
Audio Formats: MP3, WAV/PCM/LPCM, WMA, AIF/AIFF, AC3/AAC, OGG, FLAC, DTS, Dolby Digital/Dolby True HD
Video Formats: Adobe Flash 10.1, FLV/On2 VP6 (FLV/FV4/M4V), H.264 AVC (TS/AVI/MKV/MOV/M2TS/MP4), VC-1 (TS/AVI/MKV/WMV), MPEG-1 (DAT/MPG/MPEG), MPEG-2 (MPG/MPEG/VOB/TS/TP/ISO/IFO), MPEG-4 (MP4/AVI/MOV), DivX 3/4/5/6 (AVI/MKV), Xvid (AVI/MKV), WMV9 (WMV/ASF/DVR-MS)
Image Formats: JPEG, PNG, GIF, BMP, TIFF
Playlist Formats: M3U, PLS, WPL
Subtitle Formats: SRT, SUB, SSA, SMI, ASS
Supported Resolutions: H.264: 1080p at 30 fps, 1080i at 60 fps; WMV9/VC-1: 1080p at 30 fps, 1080i at 60 fps; MPEG4: 1080p at 30 fps, 1080i at 60 fps; MPEG2: 1080p at 30 fps, 1080i at 60 fps
Two-Sided RF Remote: with 4-way navigation and full QWERTY keypad
References
Anandtech: Boxee Box The Inside Story
Boxee: What are the technical specs of the Boxee Box?
Image Credits: D-Link, Inc.