Detailed Review of Moxi HD DVR
The 3-tuner Moxi HD DVR offers a way for people to record up to 75 hours of high definition TV shows via an intuitive online scheduler. In this Moxi review, we'll find out if the rest of Moxi's features are as praise-worthy as its online scheduler.
Design (4 out of 5)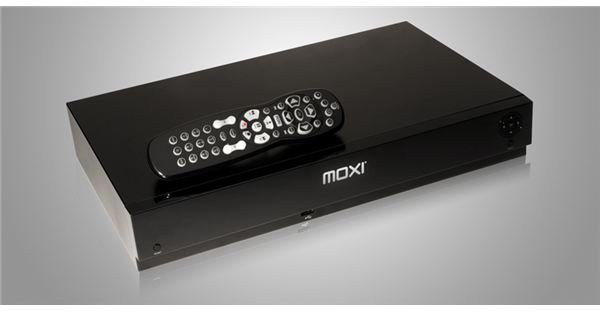 The Moxi can sit on top of your television or on any flat surface and still look elegant and sleek. It is designed with a minimalistic approach. Its shiny body with the glowing Moxi logo gives you the feeling of stability and efficient performance. Aside from all of that, since it is a sleek black box, its appearance can work with almost any kind of interior design of a room, which makes it fun to show off to friends. Since most of the controls and the interaction between the device and the user happens via the remote control and the user interface, the physical black box can stay as pretty and as low profile as it wants. The simplistic design of the Moxi gets a rating of 4 out of 5.
User Interface (4 out of 5)
The Moxi HD DVR has a very clean and minimalistic user interface that gives you an easy and quick way of accessing the different options, settings and your recorded TV shows as well via horizontal bars that are intuitive, providing a very smooth navigation experience, especially once you play around with it some. Initially, it may look daunting thanks to its overlay design and the position of the button that controls zooming in and out of the interface. This button is located in an area of the remote control that is not as obvious as it should be, especially for people who are not used to using specific remote controls for specific devices. It can also be confusing at first because the way the controls and the interface responds to your commands may be inconsistent in some areas, but after some time, when you become familiar with how the different controls and different areas of the interface respond, it will be a very fine and fluid navigation experience. The Moxi's user interface, although not perfect, deserves a good score.
Features (3 out of 5)
Its easy to use TV show recording feature comes with built-in support for Flickr and Rhapsody and the ability to stream all kinds of digital media from a connected computer. This may be enough to cover your multimedia needs, but with the included PlayOn software, you get more services available to you. The PlayOn software grants you access to content from YouTube, Netflix, Hulu and other online services. This makes the Moxi more than just a DVR. It can function as your multimedia hub with social networking features, something that most of its competitors cannot do.
This range of online content, however, cannot hide the fact that the Moxi is still a very basic DVR when the PlayOn software is removed. There is no innovation here except for the unfamiliar user interface that may work for some people but may also be a huge disappointment and cause for annoyance to others. For its seemingly bloated supply of content services, its set of features is still a lackluster bunch that is only worthy of a 3 out of 5 rating.
Performance (4 out of 5)
If you are already used to the Moxi's potentially confusing user interface, nothing with its performance will bother you except for the connection required for the PlayOn services. The PlayOn software is installed on the computer connected to the Moxi, which means if you have a less than ideal connection set up between the two devices, you will experience some lag at times. This means that depending on your local network connection, the whole Moxi-PlayOn experience may be a heavenly experience or something that would make you swear off technology forever. Either way, the Moxi's basic capability of recording TV shows, although not perfect with lost moments in recorded TV shows from time to time, is a decent performer. Scheduling TV shows to be recorded is a pleasant experience on Moxi.com, and that, above all else, is where the device draws its strength, Given time, the services available via the PlayOn software can provide more features than just content sources.
Conclusion (4 out of 5)
Let us conclude this Moxi review by taking a look at its price. At $599, the 3-tuner Moxi HD DVR justifies its price by having 500 GB of storage space, an easy to use and efficient TV show recording online scheduler and a mostly intuitive user interface. It may seem a little expensive for people who are not really into recording TV shows, but for people who are no longer watching live TV, this is a justified price and a device that is worth looking in to. It gets an overall rating of 4 out of 5, which garnishes a good score.
References
https://www.moxi.com/us/moxi_dvr.html
https://hd.engadget.com/2009/06/22/moxi-hd-dvr-review/
Photo Courtesy of https://www.Moxi.com