Mitsubishi 92-Inch 3D TV WD-92840 Review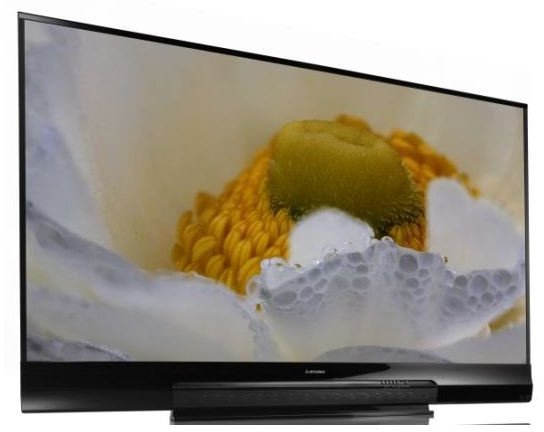 When the Mitsubishi 92-inch 3D TV hits the market in mid-summer it will be the largest rear projection flat screen television in the world. The integrated 3D emitter will function with special battery powered 3D viewing glasses. With a minimum viewing distance of over 11 feet, this TV is meant for a huge room and will cater only to a select few consumers and home theater systems. We can imagine that Lebron James will purchase one so he can view a life sized version of himself on the latest version of NBA Jam.
This huge television will dwarf anything else in the viewing space and fill the full vision field of anyone within 14 feet of the screen. People who have problems watching 3D movies in the theater may run into similar problems with this television as the DLP projection system is based on the system used in several theaters. Those prone to motion sickness should consider sitting between 18 and 20 feet away.
As a gaming display this one is unrivaled. The DLP projection is up to 1,000 times faster than LCD screens so that video game lag is eliminated. Using this with an Xbox 360 or PlayStation 3 would be like having the ultimate arcade in your living room.
The WD-92840 Confirmed Specifications
The exact specifications of the WD-92840 weren't released at CES 2011 but these are the confirmed specs from the Mitsubishi representative. The 92-inch set will have 1080p DLP resolution with a 120Hz refresh rate, StreamTV internet connectivity including access to the VUDU 3D streaming application allowing the streaming of 3D movies directly to the television, Twitter, Facebook, Pandora along with a host of others. It will be Bluetooth enabled like the Diamond Series 82-inch set, come with four HDMI inputs, a USB media player and a PC/DVI port. It will be outfitted with Mitsubishi's Unisen sound system which projects 5.1 Surround Sound that is beam-steered from speakers in the front of the set. One of the major upgrades is the use of the brand new "Clear Contrast" Gloss screen for higher contrast.
Also, recently confirmed details include the addition of the "Dark Detailer," "Perfect Color" and "Perfect Tint" Mitsubishi technologies. These are the latest and greatest of the color and contrast technologies that Mitsubishi has developed. Although there was no mention of it I would assume it also has a built in HD receiver.
Mitsubishi 92-Inch 3D TV Picture (4 out of 5)
The picture on the sample product offered up at CES 2011 was kept in a dim area, probably to highlight the contrast and deep blacks that are produced by the DLP rear projection technology. Although we never got to see it in a normal lighted setting we were assured by a Mitsubishi representative that the picture quality stands up even in high light situations. I am not convinced of this and the glossy screen seemed like it may present a mirroring issue if it isn't kept in a completely dark area. The 3D was amazing, crisp and clear with no shadowing or loss of focus.
Mitsubishi 92-Inch 3D TV Sound (4 out of 5)
The standard sound system on the display model was a 5.1 surround sound Unisen system consisting of 16 individual speakers that are independently beam aimed. Even on the floor at CES, where it can get quite noisy, the sound was clear with deep base and brilliant treble. We did not get to test it to audiophile standards but the sound that we did hear was more than adequate.
Mitsubishi 92-Inch 3D TV Inputs/Outputs (5 out of 5)
The four HDMI 1.3 input ports and PC/DVI interface will allow even the most tech heavy buyer to easily connect all of his toys including a Blu-Ray, a HD game system, camcorder, home theater speaker system and any other corded device that might be lying around. Above that it is also Bluetooth compatible so media can be streamed from cell phones or other bluetoothed enabled devices to connect wirelessly. There were also several combination component/composite inputs for non HD media. This isn't a system that is apt to be outgrown in the near future.
Price Range (4 out of 5)
Using the Mitsubishi 82-inch TV as a reference point we can expect the WD-92840 to retail between $6500 and $7,000 when released. The 82-inch model originally retailed for over $4,000 (it is now down to $2399.99 less than a year later). The current price of the Mitsubishi 92-inch TV is currently $5,799.99. If the same trend is followed, this huge TV could be below $5000 just in time for the Christmas rush.
Resources
https://www.pcworld.com/article/216207/mitsubishi_unfurls_a_92inch_3d_tv.html
https://www.cepro.com/article/mitsubishi_unleashes_giant_92_inch_3d_tv_at_ces/
https://www.mitsubishi-tv.com/pdf/specsheet-838.pdf
Image Courtesy of Mitsubishi-tv.com