Buying Guide and Review of the Elgato EyeTV HD Video Recorder
Reviewing Elgato's EyeTV HD Video Recorder for the Mac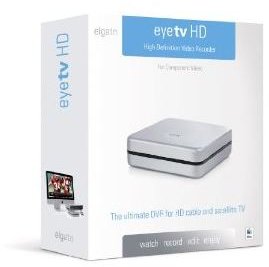 The EyeTV HD is a full-featured DVR for HD cable and satellite television. It allows the user to maximize the accessibility to premium content by connecting an Apple Mac directly to the cable or satellite receiver. The device comes with an IR Blaster, which is a channel changer cable for auto control of the receiver. It also features an advanced capture mode with dual format that can record in both iPhone and iPad formats simultaneously. This enables the user to export iTunes from EyeTV in a super-fast way, and allows the streaming of live as well as recorded TV programming to an iPad or iPhone using optional applications.
Photo courtesy of Amazon
Product Features (4 out of 5)
Almost every review of the Elgato EyeTV HD video recorder lists its ability to capture premium TV content in full HD from cable and satellite receivers as its prime highlight. The device offers recording in the advanced H.264 format for a distortion-free digital picture. The dual-format capture mode feature allows for quick playback on the iPad and iPhone.
The unit comes with an infrared remote and channel changer cable for automatic set top box control. It also includes EyeTV 3 software for the Mac as a part of the package, in addition to a composite RCA, cables for components, stereo audio and S-Video. It is a full-featured DVR that captures programming content from the cable or set top box and delivers it to a Mac computer in full HD.
Benefits of EyeTV HD (4 out of 5)
This DVR enables superlative quality of digital television recording in high definition format. High quality images are ensured with the H.264 format and an excellent compression ratio, which provides smaller file size in comparison to the MPEG-2 format. H.264 equates with the finest possible MPEG-2 quality at up to half the data rate. Another advantage of this device is that it is easy to set up and easy to use.
The user simply connects the unit to the output of cable or satellite receiver with the component cables included in the package. Connection with the Mac can be made through a USB. Once this is done, the infrared channel changer cable, which is also a part of the package, is positioned close by. The software can be configured within a few minutes with the set-up assistant and the user is ready to enjoy premium content like never before.
Content Management with EyeTV (5 out of 5)
The user can watch, rewind, and pause live TV on the Mac right from where they're sitting. It is possible to navigate the re-sizable window with a mouse, or expand it to a full screen image. Channel surfing becomes convenient with EyeTV's on-screen menus that includes a program guide. Another interesting content management feature is its built-in editor that allows the user to eliminate undesirable content or to crop the start and end of the program. Shorter clips can also be created using the editor.
Recorded content can also be shared with other Macs within the network. The DVR can record a single show or an entire season of a television series. It can also capture HD and SD video data from a camcorder. The user can also stream recorded or live television content to an iPhone or iPad with optional applications. The EyeTV 3 is an award-winning software that includes 12 months of free TV Guide data, with an option to renew for $19.95 a year. Amazon sells the EyeTV DVR at a discounted price of $169.89.