Buying a Vizio 26 Razor LED LCD HDTV
Vizio Razor LED HDTV 26"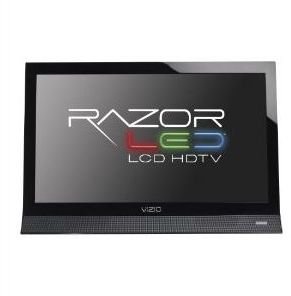 HDTV technology has revolutionized the TV viewing experience with its superior screen resolution. The Vizio 26" Razor LED LCD HDTV is one of the hot products on the market in its class. The Model M260VA 26" HDTV features full 720p high definition resolution with back-light for sharp clarity. The model is called "Razor" because of its razor-thin design, which is less than 2.3 inches in depth. The model combines great looks with state of the art technology and is sold at a competitive price online as well as through local electronic retail outlets.
Photo Credit: Amazon.com
Product Design and Features (4 out of 5)
The Vizio Razor LED HDTV is a very sleek model with a thin profile of only 0.86". Its maximum depth is 2.37 inches, and it comes in two color choices of Black and White Bezel. It ambient light sensor is designed to produce best viewing as well as energy savings. The model includes two HDMI inputs, which enables the TV to be used as a digital picture frame to enjoy a slideshow with family and friends. The high dynamic contrast ratio delivers rich black and optical white colors.
This Vizio model offers 178/178 degree horizontal and vertical viewing angle which ensures crystal clear viewing from practically any part of the room. Sound quality is sharp with two built-in three watt speakers. The remote control with the TV is stylishly designed and offers easy controls. The ECO HD design ensures an environmentally friendly television and saves energy costs too.
Technical Specs of Vizio 26 Razor LED LCD HDTV (3 out of 5)
The product offers 720p HD with LED-lit technology for sharp colors and contrast. It features Ambient Light Sensing digital technology which lets it adjust itself to the external environment lighting in order to deliver perfect viewing experience. The Image-Aspect Ration of the model is 16:9. Tuner is NTSC, ATSC and QAM compatible. Dynamic Contrast Ratio is 20,000:1 and Native Panel Resolution is 1355 x 768 pixels.
This flat screen model also features NTSC Video Decoding via Video and Progressive Scan Video through Component VGA or HDMI. The model offers advanced virtual surround sound with its SRS TruSurround HD audio and SRS TruVolume. It uses environment friendly technology and surpasses Energy StarTM 4.0 guidelines to minimize energy consumption.
Value for Money (4 out of 5)
Most users of this Vizio model report satisfactory viewing experience from it. The size 26 inches is ideal for most bedrooms and the LED technology ensures comfortable viewing from any angle. 40 reviewers at Amazon have rated this model with 4 stars out of 5 on average. Amazon sells it at a discounted price of $297.99 which is a competitive price in comparison to many other models in the market. The manufacturer offers a warranty of one year on parts and service, as well as free lifetime technical support. The product qualifies on Amazon for the TV Low Price Guarantee, Free Super Saver Shipping and Free 30-Day TV Return.