Video Projector Stands: Find the Right Stand for Your Home Theater Setup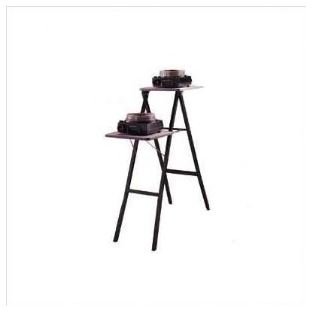 Video Projector Stands
Now that you have your new affordable projector, you probably are looking at video projector stands to get your new home theater looking professional and sleek. Below we will look at a several options available on Amazon, and what scenario they best cater to. Hopefully we can find you just the right stand for your needs, so that you can ditch the stack of books and boxes that your projector is currently sitting on.
Folding
The first type of video projector stand I want to show off is the Da-Lite Gigant. This solution is a sturdy option for people who are not committed to a permanent theater setup, or prefer not to drill any holes. One feature this folding stand has over others, aside from sturdy construction, is the two shelves at two different levels. This will give you a little added flexibility in placing your projector, to get the right height. Also, the free shelf could then be used to set up a DVD, Blu-Ray, or any other media player.
Wheeled
This option makes me cringe a little, but I'm sure there are some scenarios where someone might want to place their projector on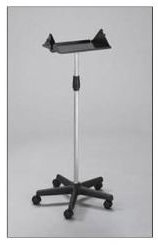 wheels. Perhaps your room is small, and when the projector is not in use, you want to just roll it into a corner. Whatever the case may be, the Artograph Mobile Projector Floor Stand may be exactly what you need to make your home theater setup work. Obvious downsides include the problem of figuring out what to do with video and power cables running to and from the projector. Maybe you will just connect them every time you roll the video projector into position? Also, remember that each time you move the unit, you will have to re-setup things like focus, projection angle, etc.
Wall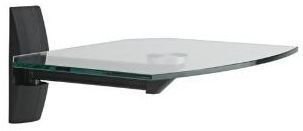 For those not afraid to drill a hole in the wall and install a more permanent setup, a wall mount may be an attractive solution. The OmniMount ECSB Component Shelf is rated to hold thirty pounds, which is plenty strong to hold any consumer projector. The downside to this solution is that it is just a glorified shelf. Your projector is just sitting on the shelf, not attached in any way. This may not stop you from improvising a solution, like using some double sided mounting tape, but remember, if you don't attach your projector in some way, it is one bump away from falling to the ground. The upside to the shelf solution is that if for any reason you need to move your projector, it is pretty easy to remove, but is otherwise a fairly permanent solution.
Ceiling Nice
When we start looking at professional and permanent solutions, ceiling mounts are the gold standard of video projector stand solutions.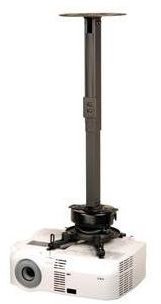 The Peerless PRS Series PRSE-EXB is probably one of the pricier options out there, but is going to be the most flexible and sturdy of the bunch. This is a permanent and professional solution, but you are going to pay a premium for it.
Ceiling Cheap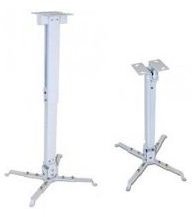 Some people aren't going to drop $200 on a video projector stand, and some projectors are probably not worth it. For a lower end, more compact budget projector this Universal Ceiling Mount will probably do just fine. It looks a little cheaper, and could probably use a nice can of flat black paint, as to not be an eye sore, but otherwise should get the job done.
Ceiling Low Profile
Finally, for those who don't have high ceilings, something a little more low profile will do the trick. The V7 PM1U40 Universal Projector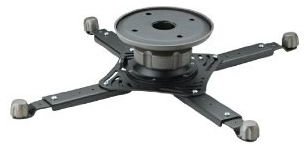 Ceiling Mount will do for those who have lower ceilings. The only issue to keep in mind with these low profile mounts is that they position your projector amidst all the hot trapped air in the room, some of which the fans on your projector are working overtime to vent from its hot internals. If your room doesn't have very good ventilation, you may run into over-heating issues. This is not a guarantee, but rather just something to be aware of.