How To Setup And Use an HTPC Wireless Keyboard & Mouse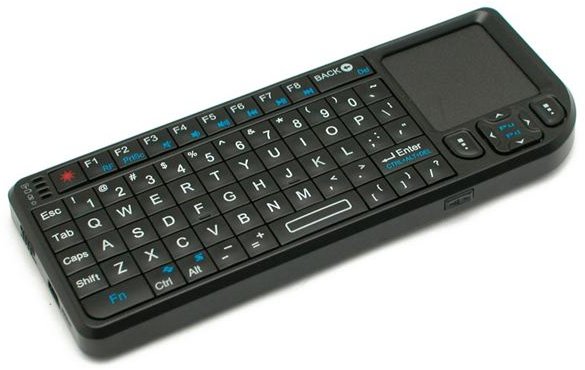 Introduction
I have been running an HTPC for years now, my biggest problem has always been the normal sized keyboard and mouse. They sit on a side table or the coffee table. In the living room I need something smaller, something with a nice design. That is why I am happy I found the Magic-Pro ProMini Keyboard. It's small only six inches long, it looks nice. I have a review of the ProMini on Bright Hub here.
Keyboard Shortcuts
Here are some links to keyboard shortcuts I have found:
Windows Media Center:
The Rest:
TIP: To find all keyboard shortcuts in Kubuntu go to: k-menu->System Settings->Keyboard & Mouse. There you will find lists with shortcuts for applications and a list of global shortcuts.
Some More Notes About The Magic-Pro ProMini Wireless HTPC Keyboard
The one thing that is not so great about the ProMini is that it only has F1 - F8. This is a little problem with Windows Media Centers. They use F9 for volume down and F10 for volume up. The way to get around this is to remap the keys and use different keys for volume up and down. In Windows this was hard to do having to dive into the registry is always a problem for the less experienced Windows user.
I have found an application that can easily make the changes for you. RandyRants.com's Sharpkeys is awesome. This application will change the correct registry keys for you, all you have to do is make the new shortcuts, or change old ones, using Sharpkeys easy to use GUI. The website where you can download Sharpkeys also has an FAQ to get you started changing shortcuts quickly.
In Kubuntu (KDE) Linux I can easily change the shortcuts by going to k-menu->System Settings->Keyboard & Mouse.
There are also ways to do stuff with a keyboard shortcut by programming a macro (little scripts that do stuff for you). For a quick reference on how to do this see this Ubuntu help post. The fastest way to do this in Windows is by using AutoHotkey, this is an open source application that will allow you to automate almost everything using hotkeys.
All of these tips will make the use of a wireless keyboard and mouse on your HTPC easier, however, when using a tiny keyboard like the Magic-Pro ProMini wireless keyboard / touch-pad these tips are a necessity. Also the laser pointer is a great addition if you have a cat.
Having this keyboard sitting on a table is a blast. Everyone that notices this little keyboard has to ask what kind of "remote" that is and what is it for? When they find out it's a full keyboard and a touch-pad they want to use it. I know there are more options for tiny keyboards, but these are mostly not as small as the Magic-Pro MiniPro.
This tiny keyboard is sold by Pyramid Distribution. Also check out their site for the Bluetooth version, handy if you are a Mac user.
Images of The Magic-Pro ProMini