LG 3D TV Buying Guide - LG LX9500: Full HD 3D TV Review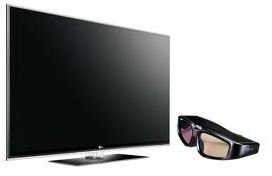 Introduction
The LG LX9500 is the flagship LG 3D TV model that features possibly the thinnest frame on the market right now. This LED TV brings HD content in stunning quality to homes everywhere. The best feature for this HD LED TV, however, is its capability to display 3D content. To add to this exciting feature, the included remote, which LG dubs the Magic Wand, works in a similar way as the Nintendo Wii's remote, popularly known as the Wiimote. Included with this Magic Wand remote control is an interface that acts as an interactive menu for component controls. There are also built-in embedded games that adds to the already impressive feature set of the LG LX9500. At first glance, it is a very impressive leap into the next step of home entertainment, which is a consolidation of multimedia content and 3D content.
Design (4 out of 5)
Its flat design gives it an elegant look that will comfortably fit in any type of room design and layout. Its design alone is already pleasing to the eyes. Its minimalistic design gives an elegant look to any household and it gives the focus of the eyes to the content, which looks stunning in its large display landscape. The LG logo is not even prominent. However, no matter how good it looks, there seems to be a slight problem with the input slots. They are located at the back of the TV, facing the wall. Having a flat design means users will have to move the TV a lot when plugging in input devices and the TV needs to have some distance from the wall. This earns the LG LX9500 a good score.
User Interface (4 out of 5)
The user interface of this LG 3D TV is as elegant as the exterior design, but it does suffer from minor lags from time to time, especially when features that access video files are used. It is pretty intuitive and easy to navigate, even with a wide arrange of features and menus. It is also given an interesting enhancement by letting users use the Magic Wand to control the menus. It may not be as intuitive for people who are not familiar with how the Magic Wand works, and they may feel a little uncomfortable at first, but once they get used to it, navigating through the minimalistic user interface will be easier and more enjoyable. The user interface gets a rating of 4 over 5.
Features (5 out of 5)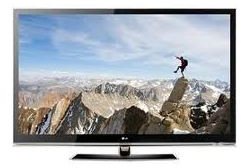 This LG 3D TV has the capability to connect to the Internet which gives users the ability to access online content from providers like YouTube, Accuweather and Picasa. Aside from playing back 3D and regular content, the LED TV also lets users play music and videos located on their home computers and the Internet. Photos can also be displayed on the screen, giving users a whole new dimension in viewing photos. On top of all of these major features, there are also built-in mini games that add value to an already impressive list of multimedia features. Its impressive collection of features get a perfect score.
Performance (4 out of 5)
With this TV's dimming capability, it uses less energy than most plasma or LCD TVs available. It doesn't just provide stunning imagery and multimedia playback capabilities, it is also environmentally friendly, which is perfect for a green home. Color quality and black reproduction is great, giving the TV a very impressive image quality. Some crosstalk during 3D content playback may bother some users a bit, but it's not enough to turn off viewers. This is normal among 3D TVs and is actually usually caused by low quality 3D content. For its performance, it deserves a score of 4.
Conclusion (4 out of 5)
Overall, this LG 3D TV offers a great entertainment experience for viewers whether they are used to 3D content or not. It gets an overall rating of 4 out of 5.
You may also want to check the best 5 3D movies to watch with 3D TV.