Learn about Ratings for Home Theater in a Box Sony Systems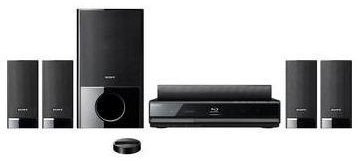 What to Look For
Interested in buying a Sony Home Theater System? Then, you need to know which are the best. So, to help you narrow down which you should buy, here is a list of some of the best rated Sony Home Theater in a Box systems.
The ratings for home theater in a box Sony systems can be deceiving if you do not know what you are looking for. But, you always want to go with one in your price range that still has all the features that you need. For example, if you want to buy a home theater system for around $500, then skip the ratings for the $1,000 one.
Also, be sure to look at the consumer ratings. These ratings are by people who have actually used the product, and they could give you a good insight into what problems they are having or even how much they love the product. Usability is going to be key.
Overall, a good system should have a four to five rating by consumers and critics. But, skim to reviews to ensure that the system is what you are looking for.
Sony HT-SS370
The first home theater system up is the Sony HT-SS370, which is perfect for the budget consumer. This system can be bought for around $300 to $400 and it features a 1,000 watt amplifier, Dolby Digital EX, 5.1 audio channel and auto sound calibration.
This system had positive reviews across the board, meaning that the public and the professionals enjoyed it. It's easy to use and comes packed with features normally found in higher-end products.
Sony HT-CT150
The Sony HT-CT150 is another one highly recommended by critics and most consumers. It's still in the budget range, generally around $250 to $300. It comes with its own remote control and speaker cables, and it has three HDMI inputs.
What sets this system apart, however, is the sound quality. The only drawbacks to this device are that the subwoofers is not wireless, meaning that you can only put it near the system unless you want wires strung everywhere. And, the remote receiver is located on the sub bar, making it difficult to turn the TV on and off.
Sony BDV-E300
The final system is Sony BDV-E300, and this product runs about $400 online. It comes with a Blu-ray Disc and DVD player, and it has 1080p upscaling. It has great sound, and it comes with 1,000 watts amplifier.
Another great feature of this system is the added HDMI ports, and the ability to plug in your MP3 player to listen to music throughout the house. Further, it comes with BD-Live technology, which allows you to easily download updates to your system and obtain added features. This system was rated highly by both professionals and consumers.